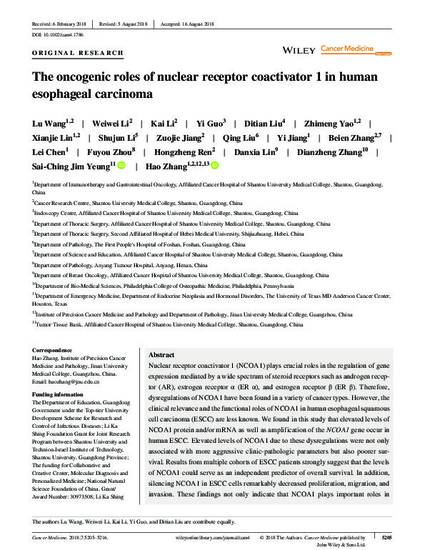 Article
The Oncogenic Roles of Nuclear Receptor Coactivator 1 in Human Esophageal Carcinoma
Cancer Medicine
Publication Date
10-1-2018
Abstract
Nuclear receptor coactivator 1 (NCOA1) plays crucial roles in the regulation of gene expression mediated by a wide spectrum of steroid receptors such as androgen receptor (AR), estrogen receptor α (ER α), and estrogen receptor β (ER β). Therefore, dysregulations of NCOA1 have been found in a variety of cancer types. However, the clinical relevance and the functional roles of NCOA1 in human esophageal squamous cell carcinoma (ESCC) are less known. We found in this study that elevated levels of NCOA1 protein and/or mRNA as well as amplification of the NCOA1 gene occur in human ESCC. Elevated levels of NCOA1 due to these dysregulations were not only associated with more aggressive clinic-pathologic parameters but also poorer survival. Results from multiple cohorts of ESCC patients strongly suggest that the levels of NCOA1 could serve as an independent predictor of overall survival. In addition, silencing NCOA1 in ESCC cells remarkably decreased proliferation, migration, and invasion. These findings not only indicate that NCOA1 plays important roles in human ESCC but the levels of NCOA1 also could serve as a potential prognostic biomarker of ESCC and targeting NCOA1 could be an efficacious strategy in ESCC treatment.
Citation Information
Lu Wang, Weiwei Li, Kai Li, Yi Guo, et al.. "The Oncogenic Roles of Nuclear Receptor Coactivator 1 in Human Esophageal Carcinoma"
Cancer Medicine
Vol. 7 Iss. 10 (2018) p. 5205 - 5216
Available at: http://works.bepress.com/dianzheng_zhang/67/