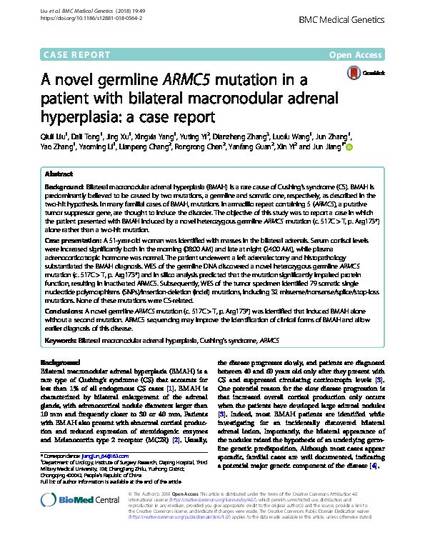 Article
A Novel Germline ARMC5 Mutation in a Patient with Bilateral Macronodular Adrenal Hyperplasia: A Case Report
BMC Medical Genetics
Publication Date
3-27-2018
Abstract
BACKGROUND: Bilateral macronodular adrenal hyperplasia (BMAH) is a rare cause of Cushing's syndrome (CS). BMAH is predominantly believed to be caused by two mutations, a germline and somatic one, respectively, as described in the two-hit hypothesis. In many familial cases of BMAH, mutations in armadillo repeat containing 5 (ARMC5), a putative tumor suppressor gene, are thought to induce the disorder. The objective of this study was to report a case in which the patient presented with BMAH induced by a novel heterozygous germline ARMC5 mutation (c. 517C > T, p. Arg173*) alone rather than a two-hit mutation.
CASE PRESENTATION: A 51-year-old woman was identified with masses in the bilateral adrenals. Serum cortisol levels were increased significantly both in the morning (08:00 AM) and late at night (24:00 AM), while plasma adrenocorticotropic hormone was normal. The patient underwent a left adrenalectomy and histopathology substantiated the BMAH diagnosis. WES of the germline DNA discovered a novel heterozygous germline ARMC5 mutation (c. 517C > T, p. Arg173*) and in silico analysis predicted that the mutation significantly impaired protein function, resulting in inactivated ARMC5. Subsequently, WES of the tumor specimen identified 79 somatic single nucleotide polymorphisms (SNPs)/insertion-deletion (indel) mutations, including 32 missense/nonsense/splice/stop-loss mutations. None of these mutations were CS-related.
CONCLUSIONS: A novel germline ARMC5 mutation (c. 517C > T, p. Arg173*) was identified that induced BMAH alone without a second mutation. ARMC5 sequencing may improve the identification of clinical forms of BMAH and allow earlier diagnosis of this disease.
Citation Information
Qiuli Liu, Dali Tong, Jing Xu, Xingxia Yang, et al.. "A Novel Germline ARMC5 Mutation in a Patient with Bilateral Macronodular Adrenal Hyperplasia: A Case Report"
BMC Medical Genetics
Vol. 19 Iss. 1 (2018)
Available at: http://works.bepress.com/dianzheng_zhang/61/