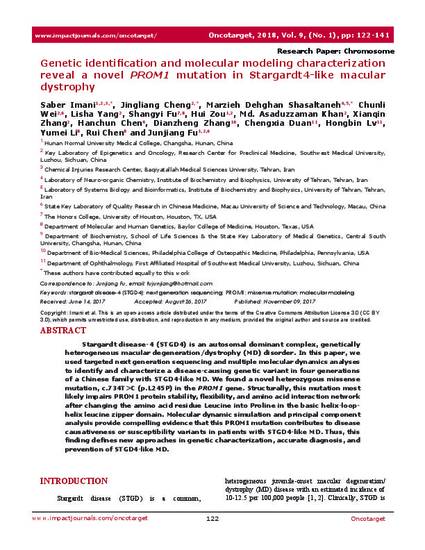 Article
Genetic Identification and Molecular Modeling Characterization Reveal a Novel PROM1 Mutation in Stargardt4-like Macular Dystrophy
Oncotarget
Publication Date
1-1-2017
Abstract
Stargardt disease-4 (STGD4) is an autosomal dominant complex, genetically heterogeneous macular degeneration/dystrophy (MD) disorder. In this paper, we used targeted next generation sequencing and multiple molecular dynamics analyses to identify and characterize a disease-causing genetic variant in four generations of a Chinese family with STGD4-like MD. We found a novel heterozygous missense mutation, c.734T>C (p.L245P) in the PROM1 gene. Structurally, this mutation most likely impairs PROM1 protein stability, flexibility, and amino acid interaction network after changing the amino acid residue Leucine into Proline in the basic helix-loop-helix leucine zipper domain. Molecular dynamic simulation and principal component analysis provide compelling evidence that this PROM1 mutation contributes to disease causativeness or susceptibility variants in patients with STGD4-like MD. Thus, this finding defines new approaches in genetic characterization, accurate diagnosis, and prevention of STGD4-like MD.
Citation Information
Saber Imani, Jingliang Cheng, Marzieh D Shasaltaneh, Chunli Wei, et al.. "Genetic Identification and Molecular Modeling Characterization Reveal a Novel PROM1 Mutation in Stargardt4-like Macular Dystrophy"
Oncotarget
Vol. 9 (2017) p. 122 - 141
Available at: http://works.bepress.com/dianzheng_zhang/58/