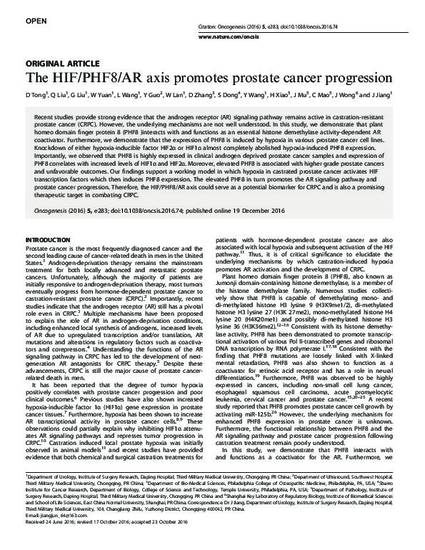 Article
The HIF/PHF8/AR axis promotes prostate cancer progression.
Oncogenesis
Publication Date
12-19-2016
Abstract
Recent studies provide strong evidence that the androgen receptor (AR) signaling pathway remains active in castration-resistant prostate cancer (CRPC). However, the underlying mechanisms are not well understood. In this study, we demonstrate that plant homeo domain finger protein 8 (PHF8 )interacts with and functions as an essential histone demethylase activity-dependent AR coactivator. Furthermore, we demonstrate that the expression of PHF8 is induced by hypoxia in various prostate cancer cell lines. Knockdown of either hypoxia-inducible factor HIF2α or HIF1α almost completely abolished hypoxia-induced PHF8 expression. Importantly, we observed that PHF8 is highly expressed in clinical androgen deprived prostate cancer samples and expression of PHF8 correlates with increased levels of HIF1α and HIF2α. Moreover, elevated PHF8 is associated with higher grade prostate cancers and unfavorable outcomes. Our findings support a working model in which hypoxia in castrated prostate cancer activates HIF transcription factors which then induces PHF8 expression. The elevated PHF8 in turn promotes the AR signaling pathway and prostate cancer progression. Therefore, the HIF/PHF8/AR axis could serve as a potential biomarker for CRPC and is also a promising therapeutic target in combating CRPC.
Citation Information
D Tong, Q Liu, G Liu, W Yuan, et al.. "The HIF/PHF8/AR axis promotes prostate cancer progression."
Oncogenesis
Vol. 5 Iss. 12 (2016) p. e283 - e295
Available at: http://works.bepress.com/dianzheng_zhang/47/