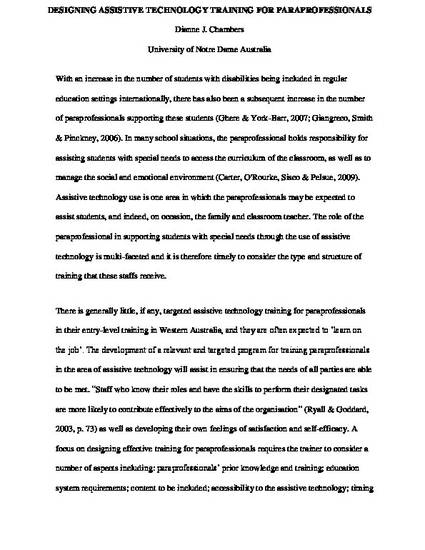 Presentation
Designing assistive technology training for paraprofessionals
Proceedings for the Twelfth Biennial Conference of the International Association of Special Education
Publication Date
1-1-2011
Abstract
With an increase in the number of students with disabilities being included in regular education settings internationally, there has also been a subsequent increase in the number of paraprofessionals supporting these students (Ghere & York-Barr, 2007; Giangreco, Smith & Pinckney, 2006). In many school situations, the paraprofessional holds responsibility for assisting students with special needs to access the curriculum of the classroom, as well as to manage the social and emotional environment (Carter, O'Rourke, Sisco & Pelsue, 2009).
Keywords
Peer-reviewed,
Published in Full
Citation Information
Dianne J Chambers. "Designing assistive technology training for paraprofessionals"
Proceedings for the Twelfth Biennial Conference of the International Association of Special Education
(2011) ISSN: 978-0-615-47548-6
Available at: http://works.bepress.com/dianne_chambers/8/