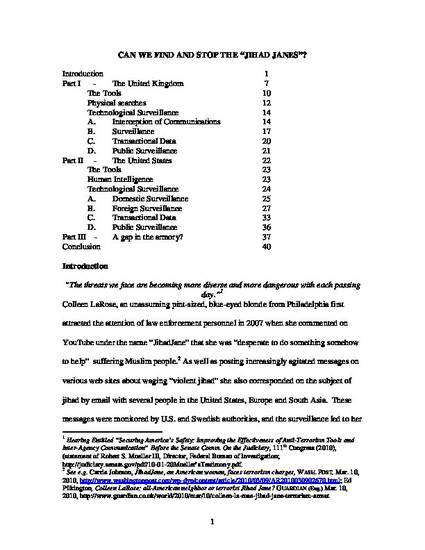 Article
Can We Find and Stop the "Jihad Janes"?
Cardozo Journal of Comparative and International Law (2011)
Abstract
Two female American citizens, Colleen LaRose, a.k.a. "Jihad Jane" and Jamie Paulin-Ramirez, whose appearance and passports allow them to blend into Western society, currently represent "one of the worst fears" of intelligence and FBI analysts who work to identify terrorist threats. On both sides of the Atlantic, similar problems exist of homegrown terrorism and radicalization, and the internet has a huge impact on these issues. This paper examines the tools available to the U.S. and the U.K. to find and stop potential homegrown terrorists from perpetrating catastrophic acts of terror. After assessing the differences between U.S. and U.K. law, I show that law enforcement personnel in the U.K. are able to use the tools to prevent terrorist acts more easily (although not necessarily more effectively) than their U.S. counterparts. However, I conclude that despite the fact that each country has an impressive array of tools to thwart the homegrown terrorist once he has been identified as a terror suspect, neither country has yet cracked the problem of finding the potential terrorist in the first place.
Keywords
homegrown terrorists,
surveillance,
U.K. law,
U.S. law
Citation Information
19 Cardozo Journal of International and Comparative Law 91 (2011)