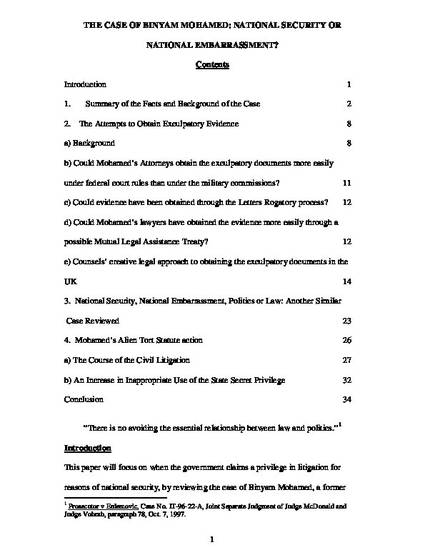 Unpublished Paper
THE CASE OF BINYAM MOHAMED: NATIONAL SECURITY OR NATIONAL EMBARRASSMENT?
ExpressO (2009)
Abstract
This paper reviews the case of Binyam Mohamed, a British resident and former Guantanamo detainee. Mohamed's case generated litigation in four different places: 1) proceedings in the military commissions court in Guantanamo Bay to try him under terrorist charges; 2) federal proceedings under an application for habeas corpus in the US District Court in Washington D.C.; 3) an application in the High Court in London where Mohamed's lawyers sought disclosure of exculpatory material that the US had refused to provide to his US attorneys; and 4) a civilian litigation action under the Alien Tort Statute action in California in which the US Government invoked the state secrets privilege to block the lawsuit. In each forum the government refused to hand over materials or evidence to Mohamed's lawyers, or attempted to block the lawsuit. The refusal to provide the evidence and exculpatory documents or the attempt to block the litigation in each case was claimed to be for reasons of national security or state secrets. The legal issues and role of the US and UK governments in the refusal to disclose evidence for alleged national security reasons, and an unusual method used to seek exculpatory evidence from a foreign court, through litigation in the UK High Court are discussed. The paper will consider whether the US and the UK acted for reasons genuinely related to national security, or for other reasons, such as to avoid national embarrassment. Few would dispute that politics should trump the law when real national security issues are at stake and where sources and intelligence have to be protected, but all too often the knee-jerk claim of national security, or state secrets is a cover-up for what a government has done on the fringes of the law.
Publication Date
October 8, 2009
Citation Information
Diane Webber. "THE CASE OF BINYAM MOHAMED: NATIONAL SECURITY OR NATIONAL EMBARRASSMENT?"
ExpressO
(2009)
Available at: http://works.bepress.com/diane_webber/1/