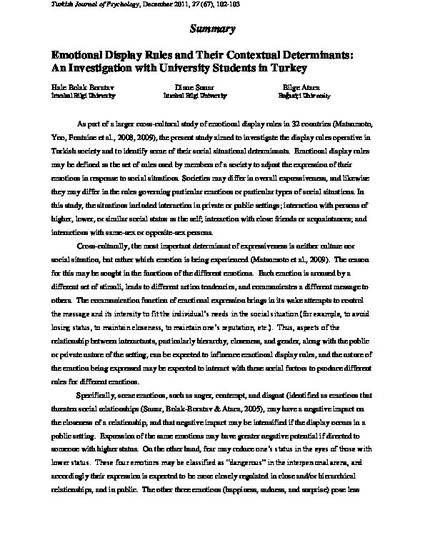 Article
Duyguları Sergileme Kuralları ve Bağlamsal Belirleyicileri: Türkiye'de Üniversite Öğrencileri ile Yapılan Bir Araştırma (Emotional Display Rules and Their Contextual Determinants: An Investigation with University Students in Turkey)
Turkish Journal of Psychology (2011)
Abstract
Part of a larger cross-cultural study, the research reported here investigated emotional display rules in Turkey. 234 university students in Istanbul (151 female) completed The Display Rule Assessment Inventory (DRAI) (Matsumoto et al. 2008). The participants were asked what their response should be when experiencing each of 7 basic emotions (anger, contempt, disgust, fear, happiness, sadness, and surprise) in either a private or public setting, with each of 20 targets (family members, friends or acquaintances, professors, etc.). The most fundamental finding was that display rules differ according to the emotion being experienced and the social context. Display of happiness had the highest approval ratings, followed by surprise, sadness, anger, fear, contempt and disgust. Significant effects of private-public setting and status differences were found for all emotions. Expression of all emotions was approved more in close than in more distant relationships. Both participant's gender and gender of target were found to affect display rules. This first investigation of emotional display rules in Turkey provided evidence for the importance of social context in social behavior.
Keywords
Emotions,
emotional expression,
cultural display rules
Publication Date
December, 2011
Citation Information
Hale Bolak Boratav, Diane Sunar and Bilge Ataca. "Duyguları Sergileme Kuralları ve Bağlamsal Belirleyicileri: Türkiye'de Üniversite Öğrencileri ile Yapılan Bir Araştırma (Emotional Display Rules and Their Contextual Determinants: An Investigation with University Students in Turkey)"
Turkish Journal of Psychology
Vol. 67 Iss. 27 (2011)
Available at: http://works.bepress.com/diane_sunar/3/