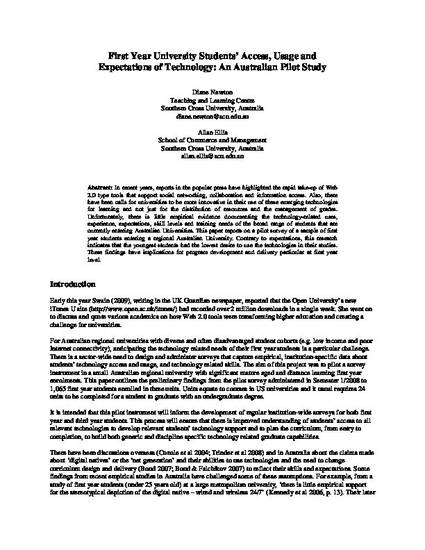 Presentation
First year university students' access, usage and expectations of technology: An Australian pilot study
Proceedings of World Conference on E-Learning in Corporate, Government, Healthcare, and Higher Education 2009
Document Type
Conference publication
Publication Date
1-1-2009
Abstract
In recent years, reports in the popular press have highlighted the rapid take-up of Web 2.0 type tools that support social networking, collaboration and information access. Also, there have been calls for universities to be more innovative in their use of these emerging technologies for learning and not just for the distribution of resources and the management of grades. Unfortunately, there is little empirical evidence documenting the technology-related uses, experience, expectations, skill levels and training needs of the board range of students that are currently entering Australian Universities. This paper reports on a pilot survey of a sample of first year students entering a regional Australian University. Contrary to expectations, this research indicates that the youngest students had the lowest desire to use the technologies in their studies. These findings have implications for program development and delivery particular at first year level.
Citation Information
Ellis, A & Newton, D 2009, 'First year university students' access, usage and expectations of technology: an Australian pilot study', in T Bastiaens et al. (eds), Proceedings of World Conference on E-Learning in Corporate, Government, Healthcare, and Higher Education 2009, Vancouver, BC, Canada, 26 October, AACE, Chesapeake, VA.