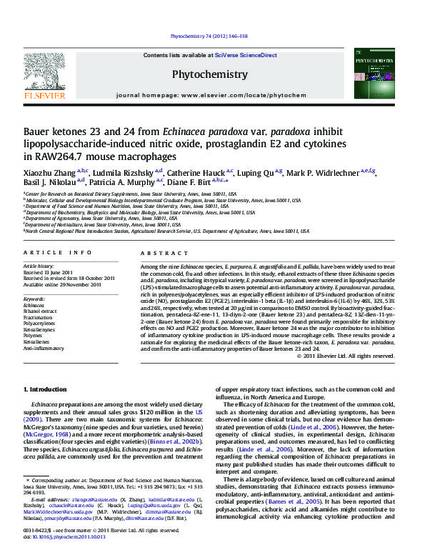 Article
Bauer ketones 23 and 24 from Echinacea paradoxa var. paradoxa inhibit lipopolysaccharide-induced nitric oxide, prostaglandin E2 and cytokines in RAW264.7 mouse macrophages
Phytochemistry
Publication Date
2-1-2012
DOI
10.1016/j.phytochem.2011.10.013
Abstract
Among the nine Echinacea species, E. purpurea, E. angustifolia and E. pallida, have been widely used to treat the common cold, flu and other infections. In this study, ethanol extracts of these three Echinaceaspecies and E. paradoxa, including its typical variety, E. paradoxa var. paradoxa, were screened in lipopolysaccharide (LPS)-stimulated macrophage cells to assess potential anti-inflammatory activity. E. paradoxa var. paradoxa, rich in polyenes/polyacetylenes, was an especially efficient inhibitor of LPS-induced production of nitric oxide (NO), prostaglandin E2 (PGE2), interleukin-1 beta (IL-1β) and interleukin-6 (IL-6) by 46%, 32%, 53% and 26%, respectively, when tested at 20 μg/ml in comparison to DMSO control. By bioactivity-guided fractionation, pentadeca-8Z-ene-11, 13-diyn-2-one (Bauer ketone 23) and pentadeca-8Z, 13Z-dien-11-yn-2-one (Bauer ketone 24) from E. paradoxa var. paradoxa were found primarily responsible for inhibitory effects on NO and PGE2 production. Moreover, Bauer ketone 24 was the major contributor to inhibition of inflammatory cytokine production in LPS-induced mouse macrophage cells. These results provide a rationale for exploring the medicinal effects of the Bauer ketone-rich taxon, E. paradoxa var.paradoxa, and confirm the anti-inflammatory properties of Bauer ketones 23 and 24.
Rights
Works produced by employees of the U.S. Government as part of their official duties are not copyrighted within the U.S. The content of this document is not copyrighted.
File Format
application/pdf
Citation Information
Xiaozhu Zhang, Ludmila Rizshsky, Catherine C. Hauck, Luping Qu, et al.. "Bauer ketones 23 and 24 from Echinacea paradoxa var. paradoxa inhibit lipopolysaccharide-induced nitric oxide, prostaglandin E2 and cytokines in RAW264.7 mouse macrophages"
Phytochemistry
Vol. 74 (2012) p. 146 - 158
Available at: http://works.bepress.com/diane_birt/4/