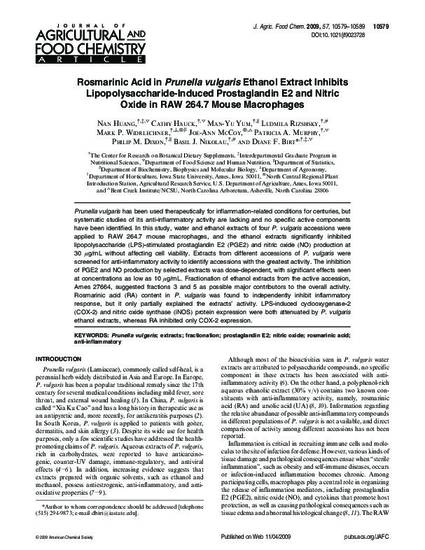 Article
Rosmarinic Acid in Prunella vulgaris Ethanol Extract Inhibits Lipopolysaccharide-Induced Prostaglandin E2 and Nitric Oxide in RAW 264.7 Mouse Macrophages
Journal of Agricultural and Food Chemistry
Publication Date
1-1-2009
Abstract
Prunella vulgaris has been used therapeutically for inflammation-related conditions for centuries, but systematic studies of its anti-inflammatory activity are lacking and no specific active components have been identified. In this study, water and ethanol extracts of four P. vulgaris accessions were applied to RAW 264.7 mouse macrophages, and the ethanol extracts significantly inhibited lipopolysaccharide (LPS)-stimulated prostaglandin E2 (PGE2) and nitric oxide (NO) production at 30 μg/mL without affecting cell viability. Extracts from different accessions of P. vulgaris were screened for anti-inflammatory activity to identify accessions with the greatest activity. The inhibition of PGE2 and NO production by selected extracts was dose-dependent, with significant effects seen at concentrations as low as 10 μg/mL. Fractionation of ethanol extracts from the active accession, Ames 27664, suggested fractions 3 and 5 as possible major contributors to the overall activity. Rosmarinic acid (RA) content inP. vulgaris was found to independently inhibit inflammatory response, but it only partially explained the extracts' activity. LPS-induced cyclooxygenase-2 (COX-2) and nitric oxide synthase (iNOS) protein expression were both attenuated by P. vulgaris ethanol extracts, whereas RA inhibited only COX-2 expression.
Copyright Owner
American Chemical Society
File Format
application/pdf
Citation Information
Nan Huang, Cathy Hauck, Man-Yu Yum, Ludmila Rizshsky, et al.. "Rosmarinic Acid in Prunella vulgaris Ethanol Extract Inhibits Lipopolysaccharide-Induced Prostaglandin E2 and Nitric Oxide in RAW 264.7 Mouse Macrophages"
Journal of Agricultural and Food Chemistry
Vol. 57 Iss. 22 (2009) p. 10579 - 10589
Available at: http://works.bepress.com/diane_birt/10/