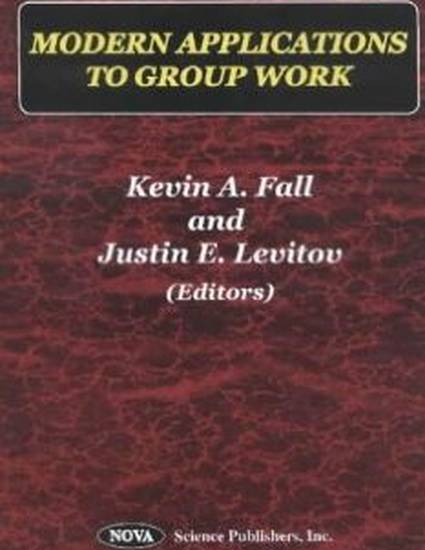 Contribution to Book
Community Building Through Dialogue Groups
Counseling Faculty Bookshelf
Publication Date
1-1-2000
Abstract
About the Book: The effectiveness of group counseling, as a treatment modality, has been well established. And while additional theoretical work will always be needed, perhaps the greater challenge for contemporary group practitioners lies in crafting theoretically sound applications of group theory so that group methods can be used more effectively to benefit clients struggling with various psychological and developmental problems. Modern Applications to Group Work edited by Kevin A. Fall, Ph.D. and Justin E. Levitov, Ph.D., responds to this need by offering 14 chapters of creative, useful examples of how group methods can be successfully applied to a wide range of problems and populations. Each chapter, written by innovators from the fields of counseling, social work, psychology and psychiatry, focuses on specific mental health problems of issues that will interest a wide population. A careful analysis of each psychological or development problem greets the reader, followed by a discussion of the theoretical basis for the interventions. Each chapter utilizes practical recommendations, outlines of procedures, and liberal use of case examples to illuminate important process points. Each broad category, Adults; Children and Adolescents; and Training and Theory; includes interesting chapter topics such as Group counseling with late deafened adults, Marital restoration groups, Therapist's uses of self in group psychotherapy, and Group play therapy with abused children. The elegant combination of theory and practice offers the reader a range of easily implemented methods and techniques applied to each specified problem. Modern Applications to Group Work is a valuable companion text for any group-oriented course. Undergraduate and graduate courses in group can use the text to illustrate the application of general group principles to specific psychological concerns. Modern Applications to Group Work may be used as the primary text for advanced courses in group counseling, psychology and social work programs. Practitioners will be attracted to the book due to the comprehensive scope and the strong theoretical basis of each chapter that is followed by pragmatic treatment strategies.
Citation Information
Molina, B., Estrada, D. Rhone, A., Lapp, S. Kim, H. (2000). Community building through dialogue groups. In K. Fall & J.E. Levitov (Eds.), Modern Applications to Group Work (pp. 169-191). New York: Nova Science.