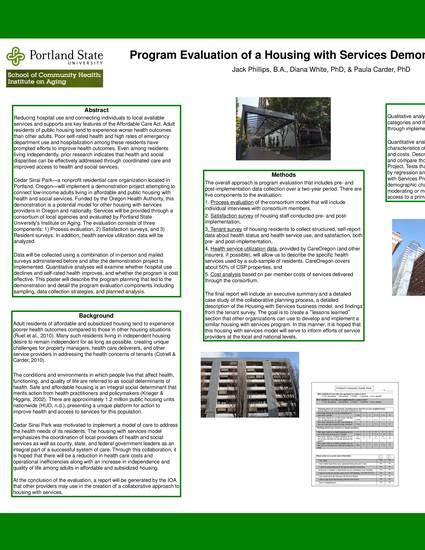 Presentation
A Program Evaluation of a Housing With Services Project for Low-Income Adults in Portland, Oregon
Student Research Symposium
Start Date
7-5-2014 11:00 AM
End Date
7-5-2014 1:00 PM
Subjects
Poor -- Medical care -- Oregon -- Portland,
Oregon Health Authority,
Low-income tenants -- Medical care -- Oregon -- Case studies,
Poor -- Services for -- Research
Description
Reducing hospital use and connecting individuals to local available services and supports are key features of the Affordable Care Act. Adult residents of public housing tend to experience worse health outcomes than other adults. Poor self-rated health and high rates of emergency department use and hospitalization among these residents have prompted efforts to improve health outcomes. Even among residents living independently, prior research indicates that health and social disparities can be effectively addressed through coordinated care and improved access to health and social services.
Cedar Sinai Park—a nonprofit residential care organization located in Portland, Oregon—will implement a demonstration project attempting to connect low-income adults living in affordable and public housing with health and social services. Funded by the Oregon Health Authority, this demonstration is a potential model for other housing with services providers in Oregon and nationally. Services will be provided through a consortium of local agencies and evaluated by Portland State University's Institute on Aging. The evaluation consists of three components: 1) Process evaluation, 2) Satisfaction surveys, and 3) Resident surveys. In addition, health service utilization data will be analyzed.
Data will be collected using a combination of in-person and mailed surveys administered before and after the demonstration project is implemented. Quantitative analyses will examine whether hospital use declines and self-rated health improves, and whether the program is cost effective. This poster will describe the program planning that led to the demonstration and detail the program evaluation components including sampling, data collection strategies, and planned analysis.
Persistent Identifier
http://archives.pdx.edu/ds/psu/11364
Citation Information
Jack A Phillips, Paula C. Carder and Diana White. "A Program Evaluation of a Housing With Services Project for Low-Income Adults in Portland, Oregon" (2014)
Available at: http://works.bepress.com/diana_white/3/