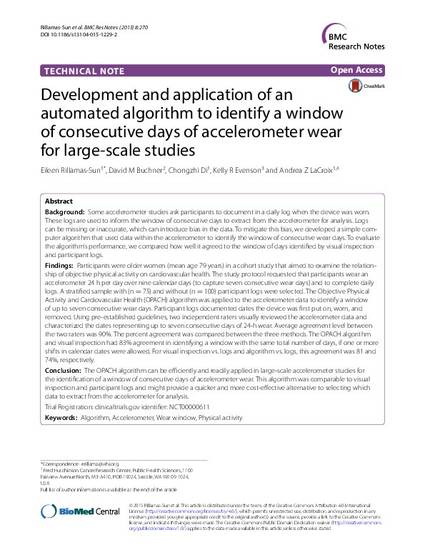 Article
Development and application of an automated algorithm to identify a window of consecutive days of accelerometer wear for large‑scale studies
BMC Research Notes (2015)
Abstract
Some accelerometer studies ask participants to document in a daily log when the device was worn. These logs are used to inform the window of consecutive days to extract from the accelerometer for analysis. Logs can be missing or inaccurate, which can introduce bias in the data. To mitigate this bias, we developed a simple computer algorithm that used data within the accelerometer to identify the window of consecutive wear days. To evaluate the algorithm's performance, we compared how well it agreed to the window of days identified by visual inspection and participant logs.
Keywords
accelerometer,
physical activity
Publication Date
Summer 2015
Citation Information
E Rillamas-Sun, D M Buchner, C Z Di, K R Evenson, et al.. "Development and application of an automated algorithm to identify a window of consecutive days of accelerometer wear for large‑scale studies"
BMC Research Notes
(2015)
Available at: http://works.bepress.com/di/24/