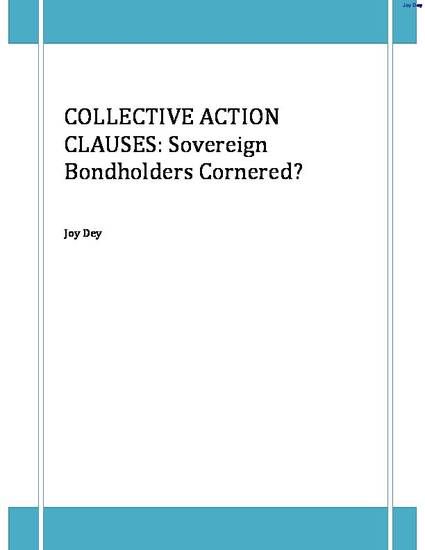 Article
'Collective Action Clauses: Sovereign Bondholders Cornered?'
Law & Business Review of the Americas (2009)
Abstract
A default in its debt obligations compels a sovereign borrower to adopt drastic measures in order to contain a spiralling financial crisis. One of such steps is to restructure a debt which is in default. Every sovereign debt restructuring results in considerable loss to the claims of the bondholders, therefore, equitable measures must be adopted during debt restructuring to ensure that sovereigns do not misuse the restructuring process to their advantage, otherwise termed 'debtor moral hazard'. However, recent spate of restructurings, especially by Latin American countries, like Argentina, Brazil, Mexico and Uruguay, have seen ingenious use of collective action clauses (CACs), whereby a predefined majority of creditors allow the sovereign debtor to restructure the debt with considerable ease, as opposed to the traditional norm of seeking a unanimous consent. It has been argued that a country in genuine financial hardship would face enormous difficulty to restructure its debt with unanimous consent had it not been for the use of CACs. Whether the use of CACs actually promotes an equitable restructuring or provides a heavy bargaining chip in favour of the sovereign debtor is debatable. However, drafting of restructured bond contracts with CACs do push the sovereign bond investors to a corner; bondholders are mostly left with no choice than to agree to the restructuring and forego a part of their claim in the hope of salvaging whatever they can from the deal, lest they are left out. This paper studies four major bond contracts - Argentina & Uruguay (exchange offers) and Brazil & Mexico (fresh issuances) which has included CACs in them, to study their legal implications on bondholders' rights vis-à-vis their claims against the sovereign debtor.
Publication Date
Summer 2009
Citation Information
Joy Dey. "'Collective Action Clauses: Sovereign Bondholders Cornered?'"
Law & Business Review of the Americas
Vol. 15 Iss. 3 (2009)
Available at: http://works.bepress.com/deyjoy/2/