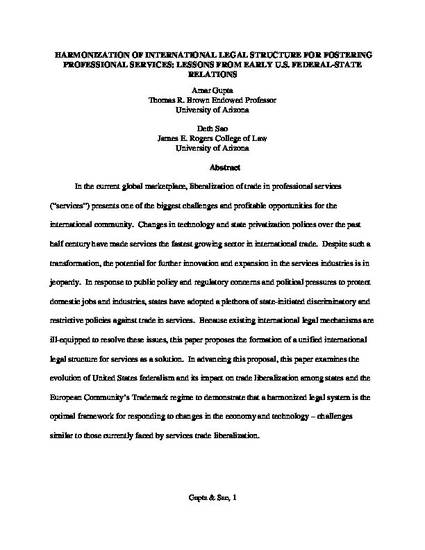 Unpublished Paper
Harmonization of International Legal Structure for Fostering Professional Services: Lessons from Early U.S. Federal-State Relations
ExpressO (2009)
Abstract
In the current global marketplace, liberalization of trade in professional services ("services") presents one of the biggest challenges and profitable opportunities for the international community. Changes in technology and state privatization polices over the past half century have made services the fastest growing sector in international trade. Despite such a transformation, the potential for further innovation and expansion in the services industries is in jeopardy. In response to public policy and regulatory concerns and political pressures to protect domestic jobs and industries, states have adopted a plethora of state-initiated discriminatory and restrictive policies against trade in services. Because existing international legal mechanisms are ill-equipped to resolve these issues, this paper proposes the formation of a unified international legal structure for services as a solution. In advancing this proposal, this paper examines the evolution of United States federalism and its impact on trade liberalization among states and the European Community's Trademark regime to demonstrate that a harmonized legal system is the optimal framework for responding to changes in the economy and technology – challenges similar to those currently faced by services trade liberalization.
Keywords
off-shoring,
outsourcing,
professional services,
trade liberalization,
federalism,
international legal structure,
harmonized trade in services regime,
international trade agreements,
preferential trade agreements,
World Trade Organization,
North American Free Trade Agreement,
European Community trademark regime,
intellectual property rights
Publication Date
August 30, 2009
Citation Information
Deth Sao. "Harmonization of International Legal Structure for Fostering Professional Services: Lessons from Early U.S. Federal-State Relations"
ExpressO
(2009)
Available at: http://works.bepress.com/deth_sao/1/