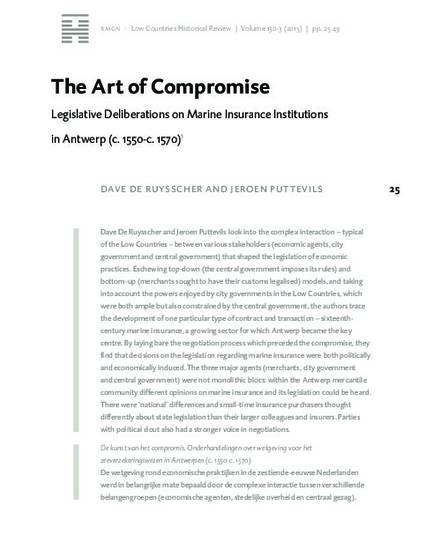 Article
The Art of Compromise. Legislative Deliberation on Marine Insurance Institutions in Antwerp (c. 1550-c. 1570)
BMGN-Low Countries Historical Review (2015)
Abstract
Dave De Ruysscher and Jeroen Puttevils look into the complex interaction – typical of the Low Countries – between various stakeholders (economic agents, city government and central government) that shaped the legislation of economic practices. Eschewing top-down (the central government imposes its rules) and bottom-up (merchants sought to have their customs legalised) models, and taking into account the powers enjoyed by city governments in the Low Countries, which were both ample but also constrained by the central government, the authors trace the development of one particular type of contract and transaction – sixteenth- century marine insurance, a growing sector for which Antwerp became the key centre. By laying bare the negotiation process which preceded the compromise, they find that decisions on the legislation regarding marine insurance were both politically and economically induced. The three major agents (merchants, city government and central government) were not monolithic blocs: within the Antwerp mercantile community different opinions on marine insurance and its legislation could be heard. There were 'national' differences and small-time insurance purchasers thought differently about state legislation than their larger colleagues and insurers. Parties with political clout also had a stronger voice in negotiations.
Keywords
marine insurance,
negotiations,
legislation,
lex mercatoria
Publication Date
Winter 2015
Citation Information
Dave De ruysscher and Jeroen Puttevils. "The Art of Compromise. Legislative Deliberation on Marine Insurance Institutions in Antwerp (c. 1550-c. 1570)"
BMGN-Low Countries Historical Review
Vol. 130 Iss. 3 (2015) p. 25 - 49
Available at: http://works.bepress.com/deruysscher/16/