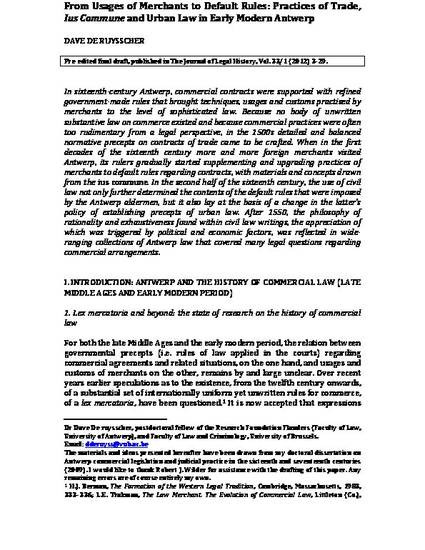 Article
From Usages of Merchants to Default Rules: Practices of Trade, Ius Commune and Urban Law in Early Modern Antwerp
The Journal of Legal History (2012)
Abstract
In sixteenth-century Antwerp, commercial contracts were supported with refined government-made rules that brought techniques, usages and customs practised by merchants to the level of sophisticated law. Because no body of unwritten substantive law on commerce existed and because commercial practices were often too rudimentary from a legal perspective, in the 1500s detailed and balanced normative precepts on contracts of trade came to be crafted. When in the first decades of the sixteenth century more and more foreign merchants visited Antwerp, its rulers gradually started supplementing and upgrading practices of merchants to default rules regarding contracts, with materials and concepts drawn from the ius commune. In the second half of the sixteenth century, the use of civil law not only further determined the contents of the default rules that were imposed by the Antwerp aldermen, but it also lay at the basis of a change in the latter's policy of establishing precepts of urban law. After 1550, the philosophy of rationality and exhaustiveness found within civil law writings, the appreciation of which was triggered by political and economic factors, was reflected in wide-ranging collections of Antwerp law that covered many legal questions regarding commercial arrangements.
Keywords
lex mercatoria; customs of merchants; history of commercial law; reception of Roman law
Publication Date
Winter 2012
Citation Information
Dave De ruysscher. "From Usages of Merchants to Default Rules: Practices of Trade, Ius Commune and Urban Law in Early Modern Antwerp"
The Journal of Legal History
Vol. 33 Iss. 1 (2012)
Available at: http://works.bepress.com/deruysscher/14/