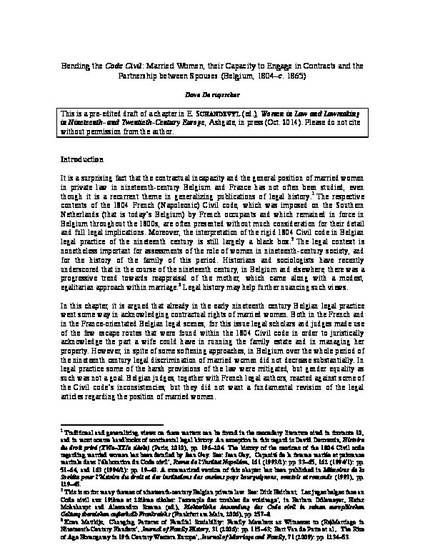 Contribution to Book
Bending the Code Civil: Married Women, their Capacity to Engage in Contracts and the Partnership Between Spouses (c. 1804-c. 1865)
Women in Law and Lawmaking in Nineteenth- and Twentieth-Century Europe (2014)
Abstract
It is surprising but true that in the course of the nineteenth century a more softened interpretation of the stubborn provisions of the 1804 Civil code with regard to married women, which imposed their general incapacity to sign contracts, mostly served economic goals. Judges in nineteenth-century Belgium paid much attention to the interests of creditors, who according to the Civil code could be confronted with husbands' rejections of contracts that had been signed by their wives. It was the acknowledgement of creditors' needs that had the indirect effect of expanding the contractual capacity of wives and not a search for gender equality in law.
Keywords
legal position of women; capacity to contract; conjugal partnership; marriage; legal history
Publication Date
Winter 2014
Citation Information
Dave De ruysscher. "Bending the Code Civil: Married Women, their Capacity to Engage in Contracts and the Partnership Between Spouses (c. 1804-c. 1865)"
Women in Law and Lawmaking in Nineteenth- and Twentieth-Century Europe
(2014)
Available at: http://works.bepress.com/deruysscher/10/