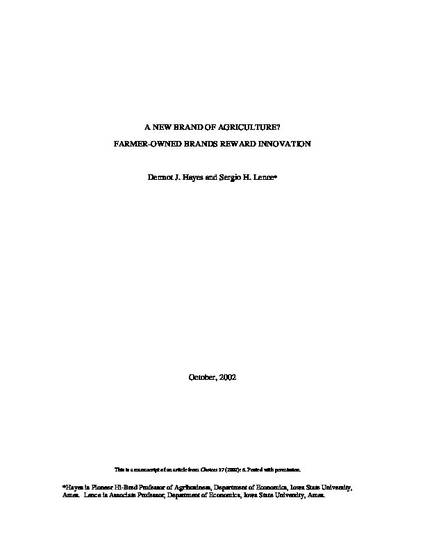 Article
A New Brand of Agriculture: Farmer-Owned Brands Reward Innovation
Choices
Publication Version
Accepted Manuscript
Publication Date
1-1-2002
Abstract
Commodity agriculture as currently practiced in the U.S. Midwest is an extremely efficient way of organizing production and distribution. It allows for inexpensive production and bulk transfer of huge quantities of meat and grain and has resulted in enormous cost savings to U.S. and international consumers. This system has evolved in accordance with market forces, and we expect that these same forces will allow the current system to survive for decades. There are aspects of the commodity system, however, that are not desirable. For example, the commingling that occurs to take advantage of bulk handling means that signals cannot be sent from consumers to producers. Consumers might desire food products that are different from the commodity standard and they might be willing to pay a premium, but the farmer does not get this signal.
File Format
application/pdf
Citation Information
Dermot J. Hayes and Sergio H Lence. "A New Brand of Agriculture: Farmer-Owned Brands Reward Innovation"
Choices
Vol. 17 (2002) p. 6 - 10
Available at: http://works.bepress.com/dermot_hayes/95/