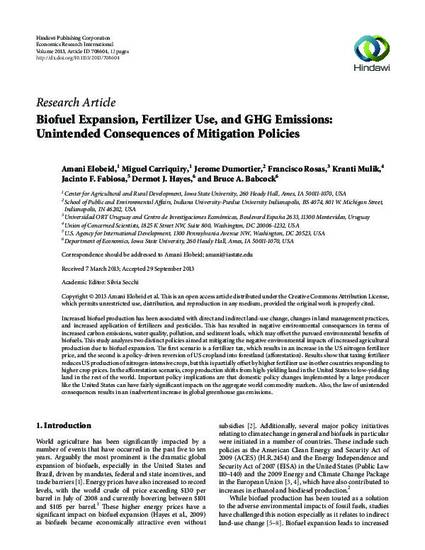 Article
Biofuel Expansion, Fertilizer Use, and GHG Emissions: Unintended Consequences of Mitigation Policies
Economics Research International
Publication Version
Published Version
Publication Date
1-1-2013
Abstract
Increased biofuel production has been associated with direct and indirect land-use change, changes in land management practices, and increased application of fertilizers and pesticides. This has resulted in negative environmental consequences in terms of increased carbon emissions, water quality, pollution, and sediment loads, which may offset the pursued environmental benefits of biofuels. This study analyzes two distinct policies aimed at mitigating the negative environmental impacts of increased agricultural production due to biofuel expansion. The first scenario is a fertilizer tax, which results in an increase in the US nitrogen fertilizer price, and the second is a policy-driven reversion of US cropland into forestland (afforestation). Results show that taxing fertilizer reduces US production of nitrogen-intensive crops, but this is partially offset by higher fertilizer use in other countries responding to higher crop prices. In the afforestation scenario, crop production shifts from high-yielding land in the United States to low-yielding land in the rest of the world. Important policy implications are that domestic policy changes implemented by a large producer like the United States can have fairly significant impacts on the aggregate world commodity markets. Also, the law of unintended consequences results in an inadvertent increase in global greenhouse gas emissions.
Rights
Works produced by employees of the U.S. Government as part of their official duties are not copyrighted within the U.S. The content of this document is not copyrighted.
Citation Information
Amani E. Elobeid, Miguel Carriquiry, Jerome Dumortier, Francisco Rosas, et al.. "Biofuel Expansion, Fertilizer Use, and GHG Emissions: Unintended Consequences of Mitigation Policies"
Economics Research International
Vol. 2013 (2013) p. 708604
Available at: http://works.bepress.com/dermot_hayes/20/