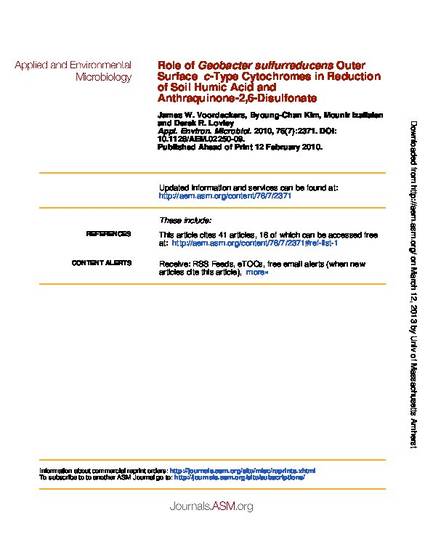 Article
Role of Geobacter Sulfurreducens Outer-Surface c-Type Cytochromes in Reduction of Soil Humic Acid and Anthraquinone-2,6-Disulfonate
Applied and Environmental Microbiology (2010)
Abstract
Deleting individual genes for outer surface c-type cytochromes in Geobacter sulfurreducens partially inhibited the reduction of humic substances and anthraquinone-2,6,-disulfonate. Complete inhibition was obtained only when five of these genes were simultaneously deleted, suggesting that diverse outer surface cytochromes can contribute to the reduction of humic substances and other extracellular quinones.
Publication Date
April, 2010
Citation Information
James W Voordeckers, Byoung-Chan Kim, Mounir Izallalen and Derek Lovley. "Role of Geobacter Sulfurreducens Outer-Surface c-Type Cytochromes in Reduction of Soil Humic Acid and Anthraquinone-2,6-Disulfonate"
Applied and Environmental Microbiology
Vol. 76 (2010)
Available at: http://works.bepress.com/derek_lovley/46/