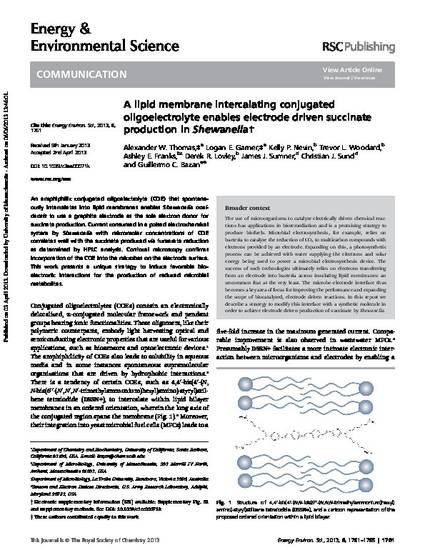 Article
A lipid membrane intercalating conjugated oligoelectrolyte enables electrode driven succinate production in Shewanella
Energy and Environmental Science (2013)
Abstract
An amphiphilic conjugated oligoelectrolyte (COE) that spontaneously intercalates into lipid membranes enables Shewanella oneidensis to use a graphite electrode as the sole electron donor for succinate production. Current consumed in a poised electrochemical system by Shewanella with micromolar concentrations of COE correlates well with the succinate produced via fumarate reduction as determined by HPLC analysis. Confocal microscopy confirms incorporation of the COE into the microbes on the electrode surface. This work presents a unique strategy to induce favorable bioelectronics interactions for the production of reduced microbial metabolites.
Citation Information
Alexander W. Thomas, Logan E. Garner, Kelly P. Nevin, Trevor L. Woodard, et al.. "A lipid membrane intercalating conjugated oligoelectrolyte enables electrode driven succinate production in Shewanella"
Energy and Environmental Science
Vol. 6 (2013)
Available at: http://works.bepress.com/derek_lovley/385/