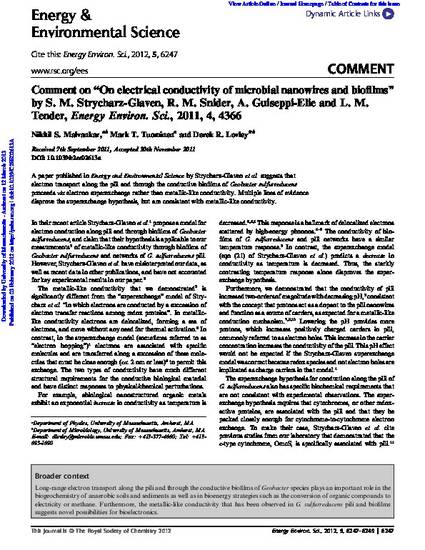 Article
Comment on "On electrical conductivity of microbial nanowires and biofilms" by S. M. Strycharz-Glaven, R. M. Snider, A. Guiseppi-Elie and L. M. Tender, Energy Environ. Sci., 2011, 4, 4366
Energy and Environmental Science (2012)
Abstract
A paper published in Energy and Environmental Science by Strycharz-Glaven et al. suggests that electron transport along the pili and through the conductive biofilms of Geobacter sulfurreducens proceeds via electron superexchange rather than metallic-like conductivity. Multiple lines of evidence disprove the superexchange hypothesis, but are consistent with metallic-like conductivity.
Publication Date
February 3, 2012
Citation Information
Nikhil S. Malvankar, Mark T. Tuominen and Derek Lovley. "Comment on "On electrical conductivity of microbial nanowires and biofilms" by S. M. Strycharz-Glaven, R. M. Snider, A. Guiseppi-Elie and L. M. Tender, Energy Environ. Sci., 2011, 4, 4366"
Energy and Environmental Science
Vol. 5 (2012)
Available at: http://works.bepress.com/derek_lovley/374/