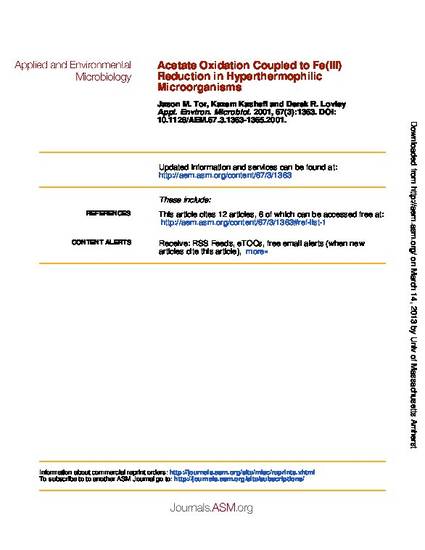 Article
Acetate Oxidation Coupled to Fe(III) Reduction in Hyperthermophilic Microorganisms
Applied and Environmental Microbiology (2000)
Abstract
No hyperthermophilic microorganisms have previously been shown to anaerobically oxidize acetate, the key extracellular intermediate in the anaerobic oxidation of organic matter. Here we report that two hyperthermophiles, Ferroglobus placidus and "Geoglobus ahangari," grow at 85°C by oxidizing acetate to carbon dioxide, with Fe(III) serving as the electron acceptor. These results demonstrate that acetate could potentially be metabolized within the hot microbial ecosystems in which hyperthermophiles predominate, rather than diffusing to cooler environments prior to degradation as has been previously proposed.
Publication Date
December 27, 2000
Citation Information
Jason M Tor, Kazem Kashefi and Derek Lovley. "Acetate Oxidation Coupled to Fe(III) Reduction in Hyperthermophilic Microorganisms"
Applied and Environmental Microbiology
Vol. 67 Iss. 3 (2000)
Available at: http://works.bepress.com/derek_lovley/215/