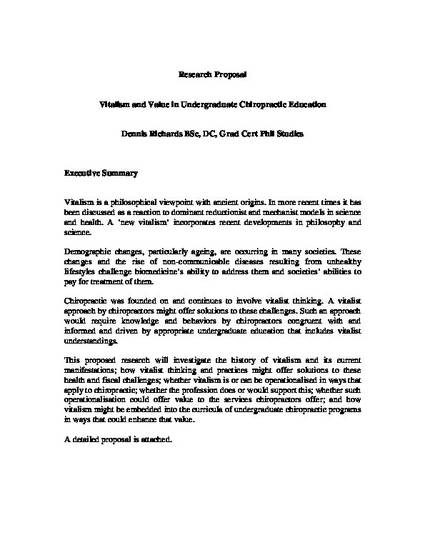 Other
Vitalism and Value in Undergraduate Chiropractic Education
(2013)
Abstract
Vitalism is a philosophical viewpoint with ancient origins. In more recent times it has been discussed as a reaction to dominant reductionist and mechanist models in science and health. A 'new vitalism' incorporates recent developments in philosophy and science.
Demographic changes, particularly ageing, are occurring in many societies. These changes and the rise of non-communicable diseases resulting from unhealthy lifestyles challenge biomedicine's ability to address them and societies' abilities to pay for treatment of them.
Chiropractic was founded on and continues to involve vitalist thinking. A vitalist approach by chiropractors might offer solutions to these challenges. Such an approach would require knowledge and behaviors by chiropractors congruent with and informed and driven by appropriate undergraduate education that includes vitalist understandings.
This proposed research will investigate the history of vitalism and its current manifestations; how vitalist thinking and practices might offer solutions to these health and fiscal challenges; whether vitalism is or can be operationalised in ways that apply to chiropractic; whether the profession does or would support this; whether such operationalisation could offer value to the services chiropractors offer; and how vitalism might be embedded into the curricula of undergraduate chiropractic programs in ways that could enhance that value.
Keywords
Vitalism,
Chiropractic Philosophy,
Education,
Health Education,
Chiropractic Education
Citation Information
Dennis M Richards. "Vitalism and Value in Undergraduate Chiropractic Education" (2013)
Available at: http://works.bepress.com/dennis_richards/14/