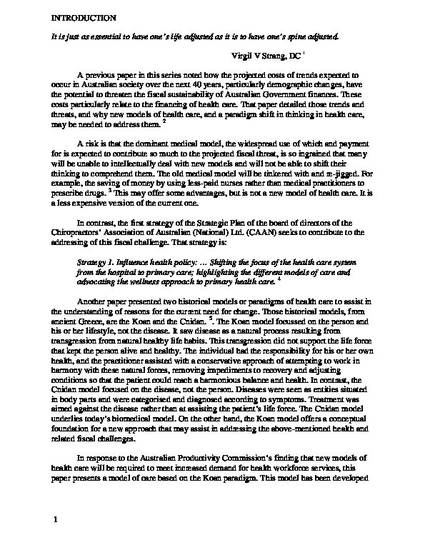 Article
Paradigm Shift: A New Model – The CAA Wellness Initiative.
Chiropractic Journal of Australia (2009)
Abstract
It has been projected that the costs of health care have the potential to threaten the fiscal stability of Australian Governments in upcoming decades. These costs relate in particular to the ageing of the population, common lifestyle activities that involve health risks, and the ever-increasing demand for taxpayer-funded medical, drug and surgical treatments and technologies. Various Government bodies have determined that there is a need for change in thinking about health care, with new models of care being required and with much more emphasis being placed on disease prevention and health promotion. The Chiropractors ' Association of Australia has developed such a new model in its Wellness Initiative. This is composed of traditional chiropractic care and Chiropractic Plus, which facilitates chiropractors in assisting their patients to live healthier lifestyles by minimising health risk factors. This is intended to prevent certain disease conditions and to improve health, thereby contributing to lessening health-related costs.
Keywords
Chiropractic Australia,
Health Promotion,
Health Risks,
Wellness.
Citation Information
Dennis M Richards. "Paradigm Shift: A New Model – The CAA Wellness Initiative."
Chiropractic Journal of Australia
Vol. 39 (2009)
Available at: http://works.bepress.com/dennis_richards/11/