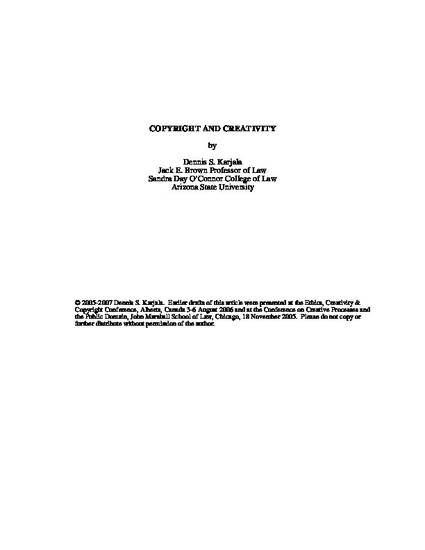 Unpublished Paper
Copyright and Creativity
ExpressO (2007)
Abstract
This article challenges the commonly articulated position that copyright is designed for the protection of "creativity" and argues that the Supreme Court in the well known case of Feist v. Rural Telephone Service was wrong in appending, as a constitutional matter, a creativity requirement for copyright protection. The central thrust is that "creativity" is useless in making the basis intellectual property determination of whether a given work should be (a) protected under copyright, (b) protected under patent, or (c) not protected at all under intellectual property law, because all three categories routinely include creative works, even highly creative works, within their respective spheres. Numerous case examples illustrate the confusion that the Feist creativity requirement has engendered.
Keywords
Copyright,
Creativity,
Feist
Publication Date
September, 2007
Citation Information
Dennis S Karjala. "Copyright and Creativity"
ExpressO
(2007)
Available at: http://works.bepress.com/dennis_karjala/1/