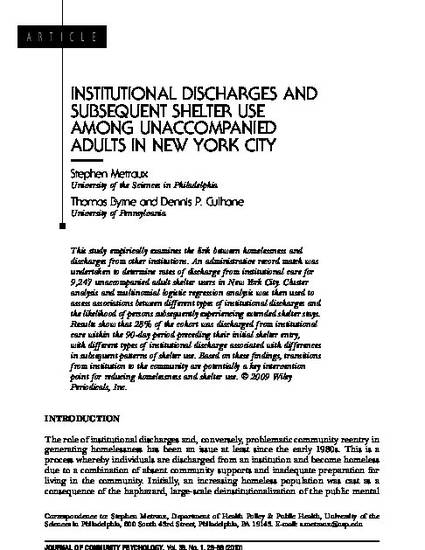 Article
Institutional discharges and subsequent shelter use among unaccompanied adults in New York City
Journal of Community Psychology (2010)
Abstract
This study empirically examines the link between homelessness and discharges from other institutions. An administrative record match was undertaken to determine rates of discharge from institutional care for 9,247 unaccompanied adult shelter users in New York City. Cluster analysis and multinomial logistic regression analysis was then used to assess associations between different types of institutional discharges and the likelihood of persons subsequently experiencing extended shelter stays. Results show that 28% of the cohort was discharged from institutional care within the 90-day period preceding their initial shelter entry, with different types of institutional discharge associated with differences in subsequent patterns of shelter use. Based on these findings, transitions from institution to the community are potentially a key intervention point for reducing homelessness and shelter use.
Keywords
homelessness,
institutional discharges
Citation Information
Stephen Metraux, Thomas Byrne and Dennis P Culhane. "Institutional discharges and subsequent shelter use among unaccompanied adults in New York City"
Journal of Community Psychology
Vol. 38 Iss. 1 (2010)
Available at: http://works.bepress.com/dennis_culhane/89/