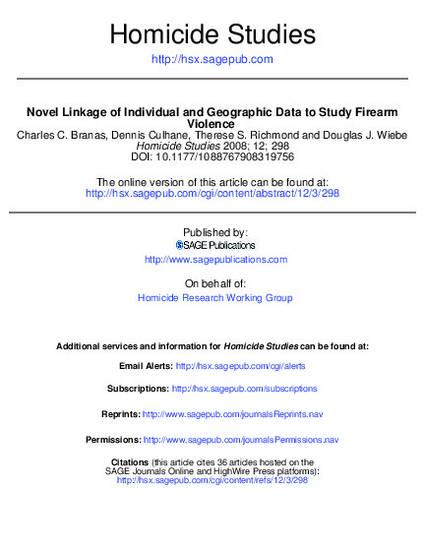 Article
Novel Linkage of Individual and Geographic Data to Study Firearm Violence
Homicide Studies (2008)
Abstract
Firearm violence is the end result of a causative web of individual-level and geographic risk factors. Few, if any, studies of firearm violence have been able to simultaneously determine the population-based relative risks that individuals experience as a result of what they were doing at a specific point in time and where they were, geographically, at a specific point in time. This paper describes the linkage of individual and geographic data that was undertaken as part of a population-based case-control study of firearm violence in Philadelphia. New methods and applications of these linked data relevant to researchers and policymakers interested in firearm violence are also discussed.
Citation Information
Charles Branas, Dennis P Culhane, T Richmond and Doug Weibe. "Novel Linkage of Individual and Geographic Data to Study Firearm Violence"
Homicide Studies
Vol. 12 (2008)
Available at: http://works.bepress.com/dennis_culhane/80/