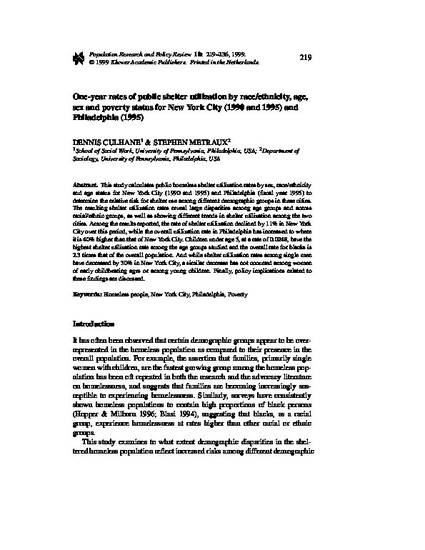 Article
One-year Rates of Public Shelter Utilization by Race/Ethnicity, Age, Sex and Poverty Status for New York City (1990 and 1995) and Philadelphia (1995)
Population Research and Policy Review (1999)
Abstract
This study calculates public homeless shelter utilization rates by sex, race/ethnicity and age status for New York City (1990 and 1995) and Philadelphia (fiscal year 1995) to determine the relative risk for shelter use among different demographic groups in these cities. The resulting shelter utilization rates reveal large disparities among age groups and across racial/ethnic groups, as well as showing different trends in shelter utilization among the two cities. Among the results reported, the rate of shelter utilization declined by 11% in New York City over this period, while the overall utilization rate in Philadelphia has increased to where it is 40% higher than that of New York City. Children under age 5, at a rate of 0.0248, have the highest shelter utilization rate among the age groups studied and the overall rate for blacks is 2.3 times that of the overall population. And while shelter utilization rates among single men have decreased by 30% in New York City, a similar decrease has not occurred among women of early childbearing ages or among young children. Finally, policy implications related to these findings are discussed.
Keywords
homelessness,
population estimates
Citation Information
Dennis P Culhane and Stephen Metraux. "One-year Rates of Public Shelter Utilization by Race/Ethnicity, Age, Sex and Poverty Status for New York City (1990 and 1995) and Philadelphia (1995)"
Population Research and Policy Review
Vol. 18 (1999)
Available at: http://works.bepress.com/dennis_culhane/24/