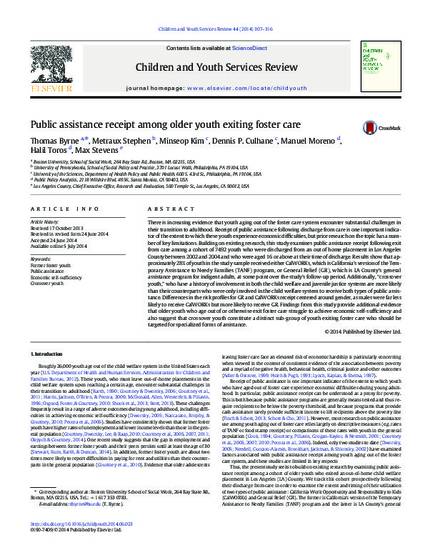 Article
Public Assistance Receipt among Older Youth Exiting Foster Care
Children and Youth Services Review (2014)
Abstract
There is increasing evidence that youth aging out of the foster care system encounter substantial challenges in their transition to adulthood. Receipt of public assistance following discharge from care is one important indicator of the extent to which these youth experience economic dif
fi
culties, but prior research on the topic has a number of key limitations. Building on existing research, this study examines public assistance receipt following exit from care among a cohort of 7492 youth who were discharged from an out of home placement in Los Angeles County between 2002 and 2004 and who were aged 16 or above at their time of  discharge. Results show that approximately28% of youth in the study sample received either CalWORKs, which is California's version of the Temporary Assistance to Needy Families (TANF) program, or General Relief (GR), which is LA County's general assistance program for indigent adults, at some point over the study's follow-up period. Additionally,
"
crossover youth,
"
who have a history of involvement in both the child welfare and juvenile justice systems are more likely than their counterparts who were only involved in the child welfare system to receive both types of public assistance. Differences in the risk pro
fi
les for GR and CalWORKs receipt centered around gender, as males were far less likely to receive CalWORKs but more likely to receive GR. Findings from this study provide additional evidence that older youth who age out of or otherwise exit foster care struggle to achieve economic self-suf
fi
ciency and
also suggest that crossover youth constitute a distinct sub-group of youth exiting foster care who should betargeted for specialized forms of assistance.
Keywords
Foster Care,
transition age youth
Citation Information
Thomas Byrne, Stephen Metraux, Minseop Kim, Dennis P Culhane, et al.. "Public Assistance Receipt among Older Youth Exiting Foster Care"
Children and Youth Services Review
Vol. 44 (2014) p. 307 - 316
Available at: http://works.bepress.com/dennis_culhane/190/