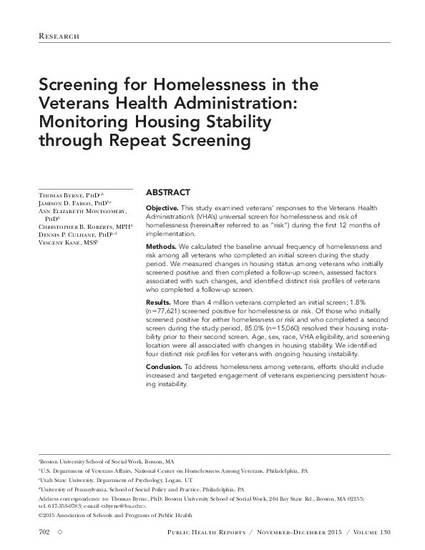 Article
Screening for Homelessness in the Veterans Health Administration: Monitoring Housing Stability through Repeat Screening
Public Health Reports (2015)
Abstract
Objective.
This study examined veterans' responses to the Veterans Health Administration's (VHA's) universal screen for homelessness and risk ofhomelessness (hereinafter referred to as "risk") during the first 12 months ofimplementation.
Methods.
We calculated the baseline annual frequency of homelessness and risk among all veterans who completed an initial screen during the studyperiod. We measured changes in housing status among veterans who initiallyscreened positive and then completed a follow-up screen, assessed factorsassociated with such changes, and identified distinct risk profiles of veteranswho completed a follow-up screen.
Results.
More than 4 million veterans completed an initial screen; 1.8% (
n

77,621) screened positive for homelessness or risk. Of those who initially screened positive for either homelessness or risk and who completed a second
screen during the study period, 85.0% (
n

15,060) resolved their housing instability prior to their second screen. Age, sex, race, VHA eligibility, and screeninglocation were all associated with changes in housing stability. We identifiedfour distinct risk profiles for veterans with ongoing housing instability.
Conclusion.
To address homelessness among veterans, efforts should include increased and targeted engagement of veterans experiencing persistent housing instability.
Keywords
homelessness,
risk screener
Publication Date
November, 2015
Citation Information
Thomas Byrne, Jamison D. Fargo, Ann Elizabeth Montgomery, Christopher B. Roberts, et al.. "Screening for Homelessness in the Veterans Health Administration: Monitoring Housing Stability through Repeat Screening"
Public Health Reports
Vol. 130 (2015) p. 702 - 710
Available at: http://works.bepress.com/dennis_culhane/189/