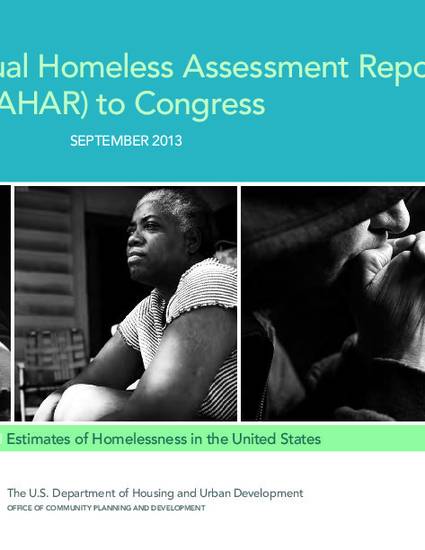 Unpublished Paper
The 2012 Annual Homelessness Assessment Report (AHAR) to Congress: Volume 2, Estimates of Homelessness in the United States
AHAR (2013)
Abstract
Since 2007, the U.S. Department of Housing and Urban Development has released an annual report on the extent of homelessness in the United States—the Annual Homeless Assessment Report (AHAR). The report documents how many people are using shelter programs for homeless people, and how many people are in unsheltered locations that are often called "the street." The AHAR is delivered each year to the U.S. Congress, and its contents are used to inform Federal, State, and local policies to prevent and end homelessness. This report is the second part of a two-volume series. The first part is called The 2012 Point-in-Time Estimates of Homelessness: Volume I of the 2012 Annual Homeless Assessment Report. Volume two of the 2012 AHAR presents both 1-night Point-in-Time (PIT) estimates and 1-year Homeless Management Information Systems (HMIS) estimates of sheltered homelessness. The estimates include people who experience homelessness as individuals, as family members, and as members of specific subpopulations. For each of these populations, the estimates describe how homelessness has changed over time and provide a demographic profile of homelessness in America.
Publication Date
September, 2013
Citation Information
Claudia Solari, Alvaro Cortes, Scott Brown, Jill Khadduri, et al.. "The 2012 Annual Homelessness Assessment Report (AHAR) to Congress: Volume 2, Estimates of Homelessness in the United States"
AHAR
(2013)
Available at: http://works.bepress.com/dennis_culhane/135/