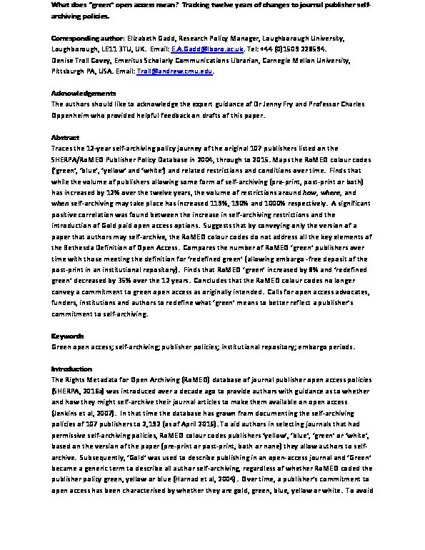 Article
What does 'green' open access mean? Tracking twelve years of changes to journal publisher self-archiving policies
Journal of Librarianship and Information Science (2016)
Abstract
Traces the 12‐year self‐archiving policy journey of the original 107 publishers listed on the
SHERPA/RoMEO Publisher Policy Database in 2004, through to 2015. Maps the RoMEO colour codes
('green', 'blue', 'yellow' and 'white') and related restrictions and conditions over time. Finds that
while the volume of publishers allowing some form of self‐archiving (pre‐print, post‐print or both)
has increased by 12% over the twelve years, the volume of restrictions around how, where, and
when self‐archiving may take place has increased 119%, 190% and 1000% respectively. A significant
positive correlation was found between the increase in self‐archiving restrictions and the
introduction of Gold paid open access options. Suggests that by conveying only the version of a
paper that authors may self‐archive, the RoMEO colour codes do not address all the key elements of
the Bethesda Definition of Open Access. Compares the number of RoMEO 'green' publishers over
time with those meeting the definition for 'redefined green' (allowing embargo ‐free deposit of the
post‐print in an institutional repository). Finds that RoMEO 'green' increased by 8% and 'redefined
green' decreased by 35% over the 12 years. Concludes that the RoMEO colour codes no longer
convey a commitment to green open access as originally intended. Calls for open access advocates,
funders, institutions and authors to redefine what 'green' means to better reflect a publisher's
commitment to self‐archiving.
NOTE: The full-text version available here is the accepted version of the manuscript, prior to copyediting and formatting.
Keywords
Embargo periods,
green open access,
institutional repository,
publisher policies,
self-archiving
DOI
10.1177/0961000616657406
Citation Information
GADD, E.A. and TROLL COVEY, D., 2016. What does "green" open access mean? Tracking twelve years of changes to journal publisher self- archiving policies. Journal of Librarianship and Information Science, doi: 10.1177/0961000616657406.