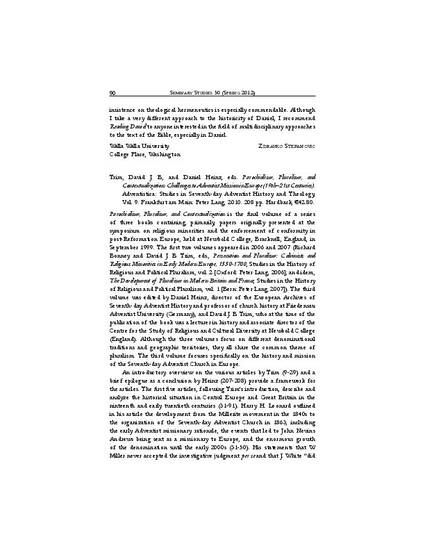 Article
[Book Review of] Parochialism, Pluralism, and Contextualization: Challenges to Adventist Mission in Europe (19th – 21st Centuries), edited by David J. B. Trim and Daniel Heinz
Andrews University Seminary Studies (2012)
Keywords
Seventh-day Adventist history,
Europe,
Missions
Citation Information
Denis Kaiser. "[Book Review of] David J. B. Trim and Daniel Heinz, eds.
Parochialism, Pluralism, and Contextualization: Challenges to Adventist Mission in Europe (19th – 21st Centuries)
. Studies in Seventh-day Adventist History and Theology. Vol. 9. Frankfurt am Main: Peter Lang, 2010." Reviewed in
Andrews University Seminary Studies
50, no. 1 (2012): 90–95.