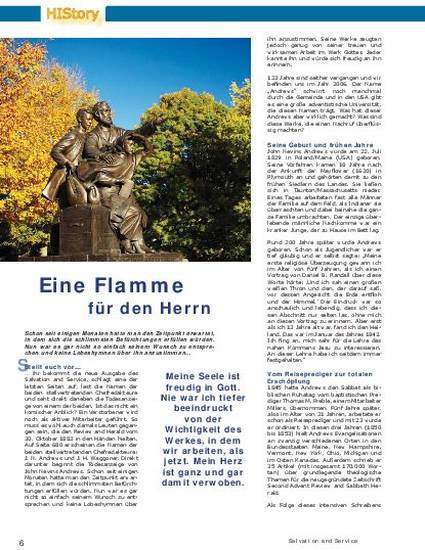 Popular Press
Eine Flamme für den Herrn
Salvation & Service (2006)
Abstract
This article is about John Nevins Andrews (1829-1883), an early Seventh-day Adventist minister, writer, scholar, missionary, and for two years president of the General Conference. His going to the European mission field in 1874 turned the attention of American Adventists to the enterprise of foreign missions, resulting in the sending of numerous other missionaries to Europe in subsequent years.
Keywords
J. N. Andrews,
John Nevins Andrews,
Mission Studies,
Missionsstudien,
Siebenten-Tags-Adventisten,
Seventh-day Adventists,
Adventgeschichte,
Adventist history
Publication Date
October, 2006
Citation Information
Denis Kaiser. "Eine Flamme für den Herrn." Salvation & Service, October 2006, 6–7.