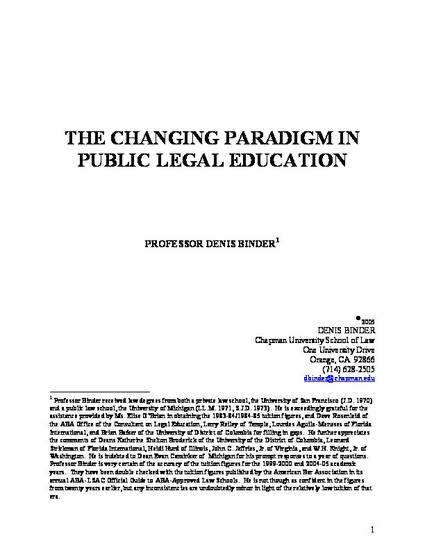 Article
The Changing Paradigm in Public Legal Education
Loyola Journal of Public Interest Law (2007)
Abstract
The nation's founding fathers, led by Thomas Jefferson and Benjamin Franklin, envisioned a democracy based upon a highly educated population. The public universities were founded to fulfill that mission. Professional schools, such as law, medicine, engineering, and business soon followed. The public higher education system was one of America's greatest achievements by the end of the Twentieth Century. The nation's flagship public universities, masters colleges, and community colleges educate 80% of the nation's college students. However, state budget cuts in recent years reflect systemic changes in public financing from discretionary spending, especially higher education, to mandates and entitlements. The public law schools have borne a disproportionate share of the budget cuts as universities realized law schools could charge market-based tuition. The result is an explosion in tuition for both state residents and non-residents. These substantial tuition increases may plug the budget gaps in the short term, but substantially threaten the ethos of a public law school. Access and affordability are most at risk as the public law schools increasingly mirror their private competitors, but often without the endowment resources of their rivals. The problem is heightened by the pressure U.S. News & World Reports places on schools to raise the numerical indicia (LSAT's and GPA's) of the entering class. Financial aid funds are therefore often used to award scholarships based on merit rather than need, further limiting access and affordability. This article addresses the issues raised by the changing paradigm, and tracks tuition figures for 20 years to illustrate the change.
Keywords
Legal education,
public law schools,
accessibility,
affordability,
non-resident students
Citation Information
Denis Binder,
The Changing Paradigm in Public Legal Education
, 8
Loy. J. Pub. Int. L.
1 (2007). Available at: http://works.bepress.com/denis_binder/7