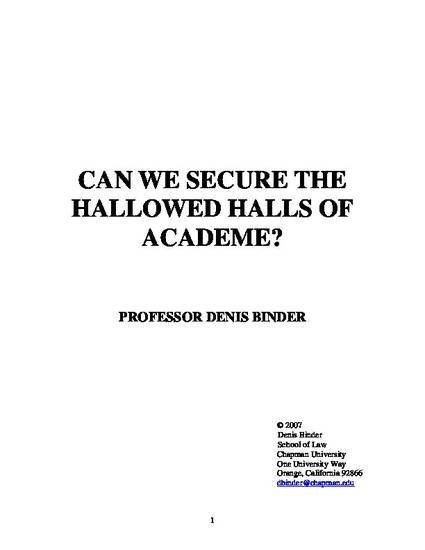 Unpublished Paper
Can We Secure the Hallowed Halls of Academe?
ExpressO (2008)
Abstract
CAN WE SECURE THE HALLOWED HALLS OF ACADEME? Once upon a time life in the academy was casual. Higher education is a different paradigm today. As Columbine, Virginia Tech and other tragedies illustrate, we have to worry about campus security today. Even prior to Virginia Tech, campuses wrestled with liability, criminal activity, sexual harassment, and suicides. Now they have to confront seemingly random acts of mass violence, which have spread throughout society. By their very nature, universities are open centers of learning. The exchange of knowledge extends to the community through guest lectures, visiting scholars, symposia, artistic performances and concerts, internet access, sporting events, museums, libraries, graduate and career fairs. The normal means of providing campus security will often be ineffective against the mass murderer; badging, armed guards, electronic key locks, emergency call boxes, escorts, lighted parking lots, metal detectors, and video surveillance, may reduce criminal activity, but they cannot secure the campus against a random act of mass violence. Large campuses of 30,000-50,000 students, thousands of faculty and staff, and tens of thousands of doors and windows, cannot be run as a closed environ. Building upon the lessons from Virginia Tech, Columbine, and similar tragedies, and rapidly evolving preventative actions in the academic community, this presentation examines the often innovative measures colleges may engage in today to minimize the risks of campus tragedies, as well as the limits and concerns raised by these These initiatives include: Background Checks; Computer Searches; Psychological Screening; Hotlines; Emergency Response Plans; Campus Communications and Community Notification
Keywords
Campus Security,
Random Acts of Violence,
Mass Violence,
Colleges and Universities
Citation Information
Denis Binder. "Can We Secure the Hallowed Halls of Academe?"
ExpressO
(2008)
Available at: http://works.bepress.com/denis_binder/2/