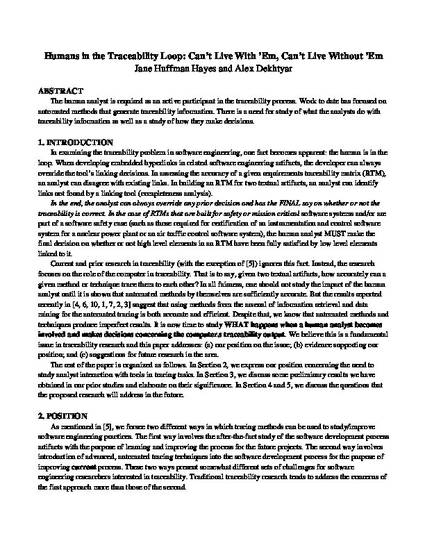 Article
Humans in the Traceability Loop: Can't Live With 'Em, Can't Live Without 'Em
3rd ACM International Workshop on Traceability in Emerging Forms of Software Engineering (TEFSE'2005) Proceedings: Long Beach, CA
Publication Date
11-1-2005
Abstract
The human analyst is required as an active participant in the traceability process. Work to date has focused on automated methods that generate traceability information. There is a need for study of what the analysts do with traceability information as well as a study of how they make decisions.
Citation Information
Jane Huffman Hayes and Alex Dekhtyar. "Humans in the Traceability Loop: Can't Live With 'Em, Can't Live Without 'Em"
3rd ACM International Workshop on Traceability in Emerging Forms of Software Engineering (TEFSE'2005) Proceedings: Long Beach, CA
(2005) p. 20 - 23
Available at: http://works.bepress.com/dekhtyar/36/