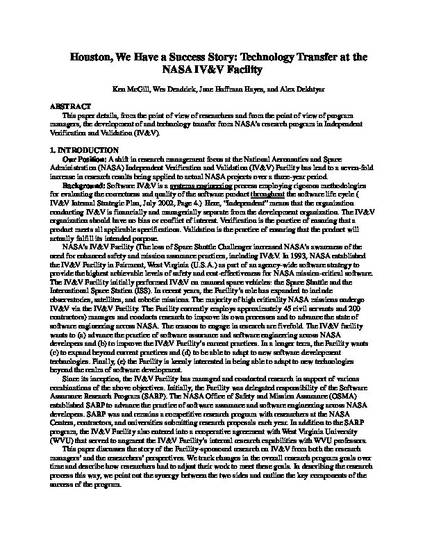 Presentation
Houston, We Have a Success Story: Technology Transfer at the NASA IV&V Facility
Proceedings of the 2006 International Workshop on Software Technology Transfer in Software Engineering
Publication Date
5-1-2006
Abstract
This paper details, from the point of view of researchers and from the point of view of program managers, the development of and technology transfer from NASA's research program in Independent Verification and Validation (IV&V).
Citation Information
Ken McGill, Wes Deadrick, Jane Huffman Hayes and Alex Dekhtyar. "Houston, We Have a Success Story: Technology Transfer at the NASA IV&V Facility"
Proceedings of the 2006 International Workshop on Software Technology Transfer in Software Engineering
(2006) p. 49
Available at: http://works.bepress.com/dekhtyar/25/