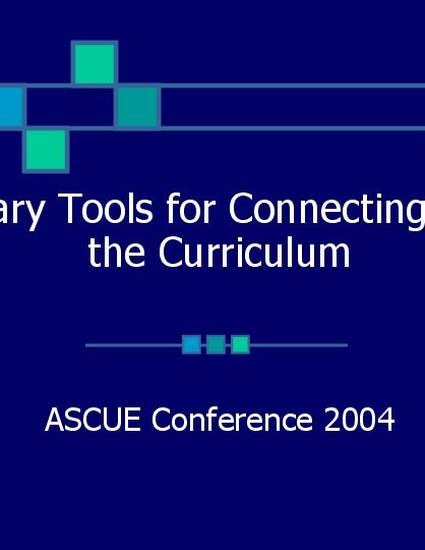 Presentation
Library Tools for Connecting with the Curriculum
Association for Small Computer Users in Education Annual Conference (ASCUE)
Document Type
Presentation
Publication Date
6-6-2004
Abstract
Serving as liaison librarians at the department level, the authors discuss strategies for integrating library and online resources with the curriculum. Examples of technology-based capabilities range from current awareness services, e-reserves, and journal finding applications to smart linking functions that can be built into library catalogs, licensed databases, course syllabi, and tailored research guides. Attendees will be able to increase student engagement with learning resources by using their institution's library tools more effectively, and by requesting librarian assistance to employ these functions in online research guides and course syllabi.
Location
Myrtle Beach, SC
Source
https://ascue.org/wp-content/uploads/2014/11/2004-final.pdf
Citation Information
Robert Fernekes, Debra G Skinner and Sonya S. Shepherd. "Library Tools for Connecting with the Curriculum"
Association for Small Computer Users in Education Annual Conference (ASCUE)
(2004)
Available at: http://works.bepress.com/debra_skinner/47/