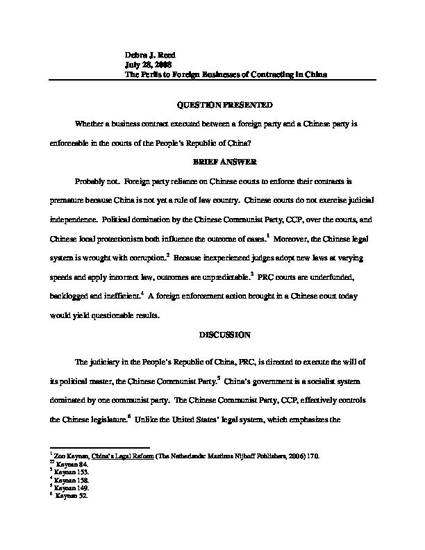 Unpublished Paper
The Perils of Foreign Contracating in China
ExpressO (2008)
Abstract
QUESTION PRESENTED
Whether a business contract executed between a foreign party and a Chinese party is enforceable in the courts of the People's Republic of China?
BRIEF ANSWER
Probably not. Foreign party reliance on Chinese courts to enforce their contracts is premature because China is not yet a rule of law country. Chinese courts do not exercise judicial independence. Political domination by the Chinese Communist Party, CCP, over the courts, and Chinese local protectionism both influence the outcome of cases. Moreover, the Chinese legal system is wrought with corruption. Because inexperienced judges adopt new laws at varying speeds and apply incorrect law, outcomes are unpredictable. PRC courts are underfunded, backlogged and inefficient. A foreign enforcement action brought in a Chinese court today would yield questionable results.
Keywords
contract,
china,
enforcement,
abitration,
rule of law,
foreign investment enterprise,
judicial independence,
corruption,
local protectionism
Publication Date
August 21, 2008
Citation Information
Debra J Reed. "The Perils of Foreign Contracating in China"
ExpressO
(2008)
Available at: http://works.bepress.com/debra_reed/2/