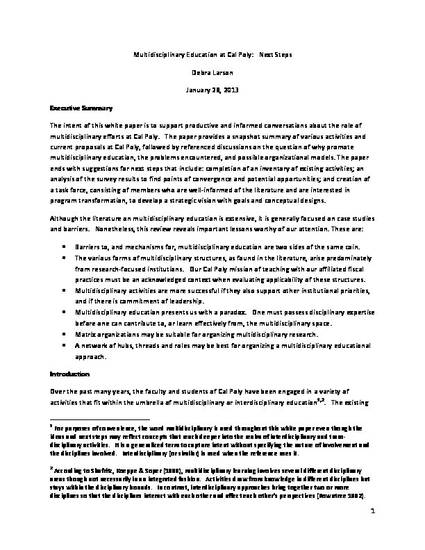 Unpublished Paper
Multi-disciplinary Education at Cal Poly: Next Steps
(2013)
Abstract
The intent of this white paper is to support productive and informed conversations about the role of multidisciplinary efforts at Cal Poly. The paper provides a snapshot summary of various activities and current proposals at Cal Poly, followed by referenced discussions on the question of why promote multidisciplinary education, the problems encountered, and possible organizational models. The paper ends with suggestions for next steps that include: completion of an inventory of existing activities; an analysis of the survey results to find points of convergence and potential opportunities; and creation of a task force, consisting of members who are well-informed of the literature and are interested in program transformation, to develop a strategic vision with goals and conceptual designs.
Although the literature on multidisciplinary education is extensive, it is generally focused on case studies and barriers. Nonetheless, this review reveals important lessons worthy of our attention. These are:
• Barriers to, and mechanisms for, multidisciplinary education are two sides of the same coin.
• The various forms of multidisciplinary structures, as found in the literature, arise predominately from research-focused institutions. Our Cal Poly mission of teaching with our affiliated fiscal practices must be an acknowledged context when evaluating applicability of these structures.
• Multidisciplinary activities are more successful if they also support other institutional priorities, and if there is commitment of leadership.
• Multidisciplinary education presents us with a paradox. One must possess disciplinary expertise before one can contribute to, or learn effectively from, the multidisciplinary space.
• Matrix organizations may be suitable for organizing multidisciplinary research.
• A network of hubs, threads and roles may be best for organizing a multidisciplinary educational approach.
Keywords
Interdisciplinary,
Higher Education,
organizational structure
Publication Date
Winter January 28, 2013
Citation Information
Debra Larson. "Multi-disciplinary Education at Cal Poly: Next Steps" (2013)
Available at: http://works.bepress.com/debra_larson/2/