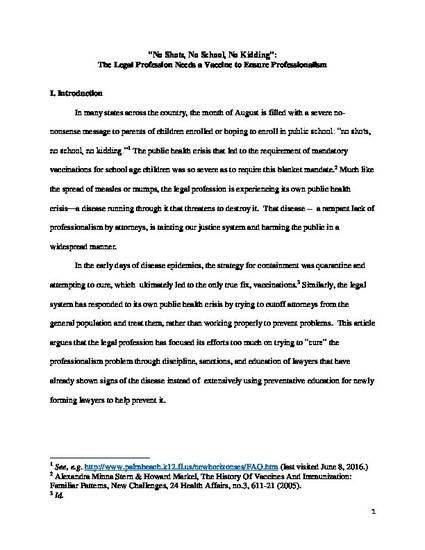 Unpublished Paper
"No Shots, No School, No Kidding": The Legal Profession Needs a Vaccination to Ensure Professionalism
not yet published (2016)
Abstract
In many states across the country, the month of August is filled with a severe no-nonsense message to parents of children enrolled or hoping to enroll in public school: "no shots, no school, no kidding." The public health crisis that led to the requirement of mandatory vaccinations for school age children was so severe as to require this blanket mandate. Much like the spread of measles or mumps, the legal profession is experiencing its own public health crisis—a disease running through it that threatens to destroy it. That disease -- a rampant lack of professionalism by attorneys, is tainting our justice system and harming the public in a widespread manner.
In the early days of disease epidemics, the strategy for containment was quarantine and attempting to cure, which ultimately led to the only true fix, vaccinations. Similarly, the legal system has responded to its own public health crisis by trying to cutoff attorneys from the general population and treat them, rather than working properly to prevent problems. This article argues that the legal profession has focused its efforts too much on trying to "cure" the professionalism problem through discipline, sanctions, and education of lawyers that have already shown signs of the disease instead of extensively using preventative education for newly forming lawyers to help prevent it.
Part II of this work discusses the professionalism crisis. Part III discusses ways that the legal academy is tackling this disease, and proposals to more effectively prevent it through a "vaccination" given while new lawyers are at their most formative stages. Part IV discusses obstacles to these plans, and Part V draws some conclusions from this analysis.
Keywords
legal profession,
professionalism
Citation Information
Debra Moss Curtis. ""No Shots, No School, No Kidding": The Legal Profession Needs a Vaccination to Ensure Professionalism"
not yet published
(2016)
Available at: http://works.bepress.com/debra_curtis/20/