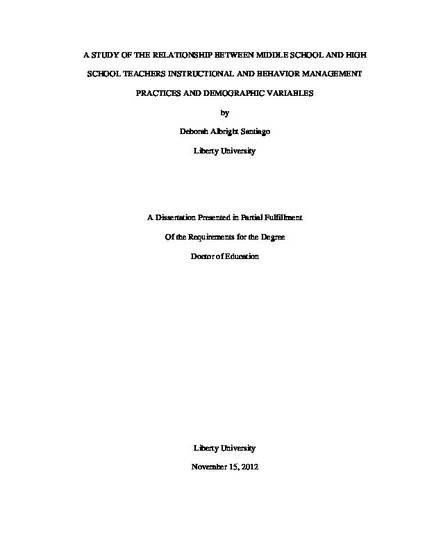 Other
A Study of the Relationship between Middle School and High School Teachers' Instructional and Behavior Management Practices and Demographic Variables
Doctoral Dissertations and Projects
Department
School of Education
Degree
Doctor of Education (EdD)
Keywords
Behavior Management,
Classroom Management,
Demographic Variables,
High School Teachers,
Instructional Management,
Middle School Teachers
Abstract
Although teachers implement differentiated instructional techniques to provide students with enriching hands-on activities related to real life experiences, the implementation of instructional techniques has required teachers to rethink and revise their approaches to classroom management (CM). While a gap in research exists on current practices in the field of instructional and behavior management, empirical research is needed to understand the many facets involved with CM. The purpose of this correlation and causal-comparative study is to identify whether relationships exist between the demographic variables (gender, education degree, years of teaching experience, and school assignment) and CM practices used by a group of certified public middle school and high school teachers in more than two rural school districts in Georgia. Using a demographic questionnaire and the Behavior and Instructional Management Scale, the target population for this study includes 220 full time certified middle school and high school teachers.
Citation Information
Deborah Santiago. "A Study of the Relationship between Middle School and High School Teachers' Instructional and Behavior Management Practices and Demographic Variables"
Available at: http://works.bepress.com/deborah_santiago1/1/