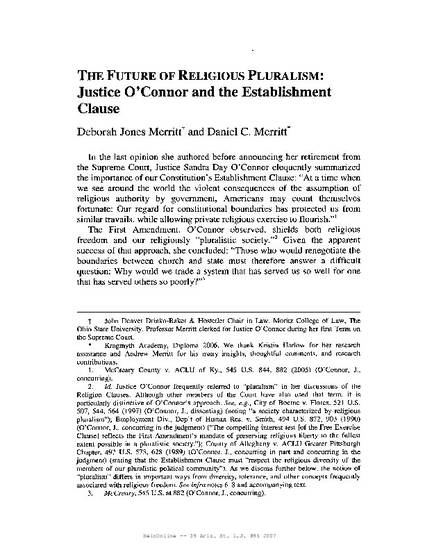 Article
The Future of Religious Pluralism: Justice O'Connor and the Establishment Clause
Arizona State Law Journal (2007)
Abstract
Justice Sandra Day O'Connor offered a distinctive vision of the Establishment Clause. This article puts that vision in context by reviewing the history of religious pluralism, tolerance, and intolerance in the United States. The article also draws upon psychology research to illuminate the polarizing tendencies that continuously undermine religious tolerance. These sections of the article offer essential background that many observers overlook when analyzing the Establishment Clause. Finally, the article argues that Justice O'Connor's Establishment Clause principles offer the best promise of promoting religious pluralism more fully in the United States.
Keywords
Justice Sandra Day O'Connor,
Establishment Clause,
Pluralism,
Psychology,
Religion
Citation Information
Deborah J Merritt and Daniel C Merritt. "The Future of Religious Pluralism: Justice O'Connor and the Establishment Clause"
Arizona State Law Journal
Vol. 39 Iss. 3 (2007)
Available at: http://works.bepress.com/deborah_merritt/2/