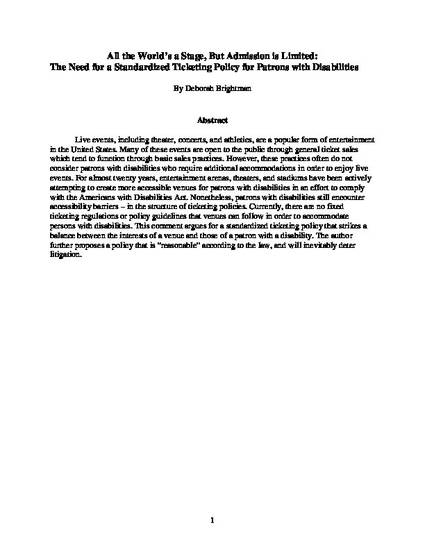 Unpublished Paper
All the World's a Stage, But Admission is Limited: The Need for a Standardized Ticketing Policy for Patrons with Disabilities
ExpressO (2008)
Abstract
Live events, including theater, concerts, and athletics, are a popular form of entertainment in the United States. Many of these events are open to the public through general ticket sales which tend to function through basic sales practices. However, these practices often do not consider patrons with disabilities who require additional accommodations in order to enjoy live events. For almost twenty years, entertainment arenas, theaters, and stadiums have been actively attempting to create more accessible venues for patrons with disabilities in an effort to comply with the Americans with Disabilities Act. Nonetheless, patrons with disabilities still encounter accessibility barriers – in the structure of ticketing policies. Currently, there are no fixed ticketing regulations or policy guidelines that venues can follow in order to accommodate persons with disabilities. This comment argues for a standardized ticketing policy that strikes a balance between the interests of a venue and those of a patron with a disability. The author further proposes a policy that is "reasonable" according to the law, and will inevitably deter litigation.
Keywords
Americans with Disabilities Act,
Entertainment,
Ticketing
Publication Date
March 1, 2008
Citation Information
Deborah Brightman. "All the World's a Stage, But Admission is Limited: The Need for a Standardized Ticketing Policy for Patrons with Disabilities"
ExpressO
(2008)
Available at: http://works.bepress.com/deborah_brightman/1/