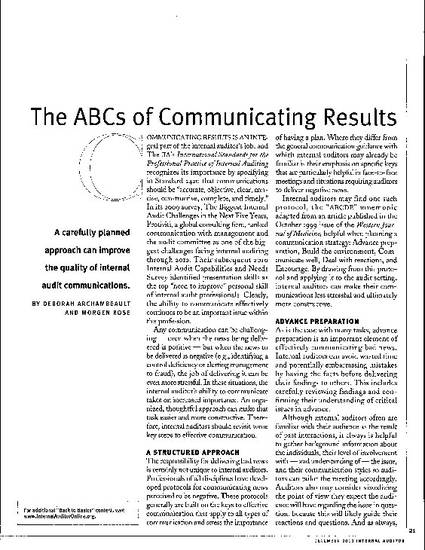 Article
The ABCs of Communicating Results
Internal Auditor
Publication Date
12-1-2010
Abstract
Communicating results is an integral part of the internal auditor's job, and The IIA's International Standards for the Professional Practice of Internal Auditing recognizes its importance by specifying in Standard 2420 that communications should be "accurate, objective, clear, concise, constructive, complete, and timely." In its 2009 survey. The Biggest Internal Audit Challenges in the Next Five Years, Protiviti, a global consulting firm, ranked communication with management and the audit committee as one of the biggest challenges facing internal auditing through 2012. Their subsequent 2010 Internal Audit Capabilities and Needs Survey identified presentation skills as the top "need to improve" personal skill of internal audit professionals. Clearly, the ability to communicate effectively continues to be an important issue within the profession.
Any communication can be challenging — even when the news being delivered is positive — but when the news to be delivered is negative (e.g., identifying a control deficiency or alerting management to fraud), the job of delivering it can be even more stressful. In these situations, the internal auditor's ability to communicate takes on increased importance. An organized, thoughtful approach can make that task easier and more constructive. Therefore, internal auditors should revisit some key steps to effective communication.
Document Version
Published Version
Copyright
Copyright © 2010, Institute of Internal Auditors
Publisher
Institute of Internal Auditors
Citation Information
Deborah S. Archambeault and Morgen Rose. "The ABCs of Communicating Results"
Internal Auditor
Vol. 67 Iss. 6 (2010)
Available at: http://works.bepress.com/deborah-archambeault/18/