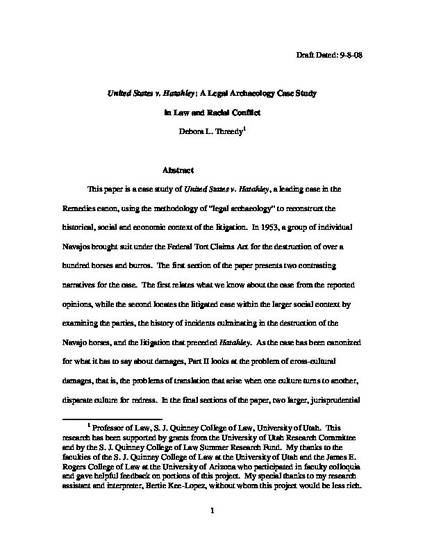 Unpublished Paper
United States v. Hatahley: A Legal Archaeology Case Study in Law and Racial Conflict
ExpressO (2008)
Abstract
This paper is a case study of United States v. Hatahley, a leading case in the Remedies canon, using the methodology of "legal archaeology" to reconstruct the historical, social and economic context of the litigation. In 1953, a group of individual Navajos brought suit under the Federal Tort Claims Act for the destruction of over a hundred horses and burros. The first section of the paper presents two contrasting narratives for the case. The first relates what we know about the case from the reported opinions, while the second locates the litigated case within the larger social context by examining the parties, the history of incidents culminating in the destruction of the Navajo horses, and the litigation that preceded Hatahley. As the case has been canonized for what it has to say about damages, Part II looks at the problem of cross-cultural damages, that is, the problems of translation that arise when one culture turns to another, disparate culture for redress. In the final sections of the paper, two larger, jurisprudential questions posed by the case are explored. Part III examines the intersection of race and power in the case, particularly the paradoxical role of law in both maintaining and challenging racial hierarchies. Part IV examines the question of bias from a unique perspective. The case was ultimately assigned to another judge due to the trial judge's alleged partiality to the Navajos. The section explores whether the lack of prejudice, when contrasted with a background societal prejudice, could read as partiality. The epilogue points out how this question has a modern application.
Publication Date
September 23, 2008
Citation Information
Debora L. Threedy. "United States v. Hatahley: A Legal Archaeology Case Study in Law and Racial Conflict"
ExpressO
(2008)
Available at: http://works.bepress.com/debora_threedy/3/